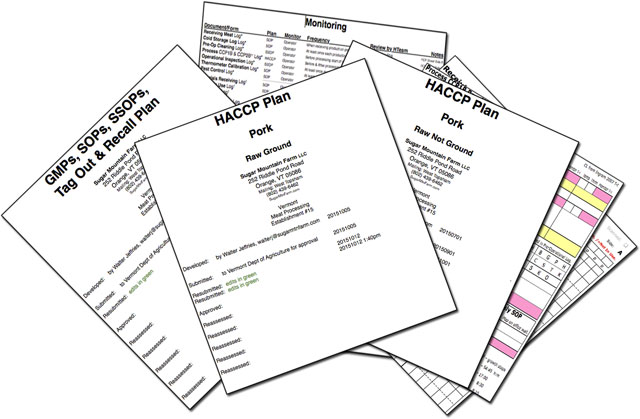 Sugar Mountain Farm Butcher Shop HACCP Plan
Today I received approval for the last part of our
HACCP Plan
: Raw Ground. This means we'll be able to make sausages and ground pork! Our initial HACCP Plan for Raw Non-Ground was approved last week and we got our
license to cut
but I really wanted to get our ground license too since much of what is good about a pig is ground be it for hamburger or sausages. The HACCP system is setup to separate the raw intact from the raw ground as two separate processes so we needed to get a separate plan for each.
I have in the works a Grand Unification Theory of Raw Processing which I will present to the inspectors at a later date that will hopefully bring all of this together in a simpler, more elegant HACCP Plan. A project for another day.
Ground and Initial Sausage Labels Approved
On Wednesday we'll be meeting with one of the inspectors to go over last details on labels. I already have approval for
Intact Cuts
(e.g., pork chops), Ground, Hot Italian, Sweet Italian and Chorizo. Once we have those going smoothly I'll start adding other flavors of sausages.
On Thursday we will do our first day of inspected cutting – opening day of our butcher shop. We'll soft start with a single pig for the day. We have previously done three half pigs under Custom Exempt as we worked out the details of the HACCP Plan, SSOPs, SOPs and GMPs.[1, 2, 3]
Also see:
HACCP Plan Meeting
HACCP & Friends Submitted
Outdoors: 71°F/46°F Sunny
Tiny Cottage: 66°F/61°F
Daily Spark: One of the interesting things about getting a book in the mail, especially a used book, is that I learn a lot about the person who read it last as it carries their scent and sometimes notes like a well loved bone.