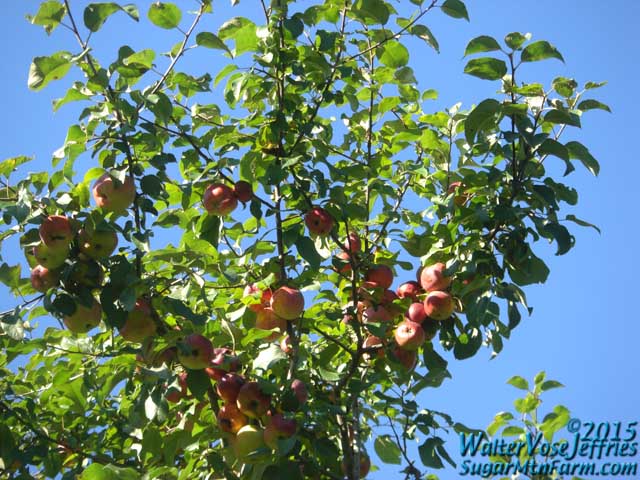 Apples in Blue Sky
While this was a poor year for
pumpkins
and
sunflowers
it has been a fantastic year for our pasture forages, apples and pears. Life's like that. One thing is down in a particular year but other things are up. That is part of why diversity is key.
This apple tree is one of many we planted in
2005
. Now just ten years later those 1/2″ saplings are about 7″ in diameter and bearing bushels of fruit.
Our primary purpose in planting fruit and nut trees is to provide food for our livestock. They start bearing drops in late June to early July, as the trees culls extra fruit. Then in August through late October is the main harvest. We plant the trees in protected double fence lines between paddocks so they drop down into the places where the livestock can harvest the apples, pears and such. The bottom fence wires are set as creeps so that smaller pigs, ducks, geese and chickens can get in close around the trees to get the protected drops there.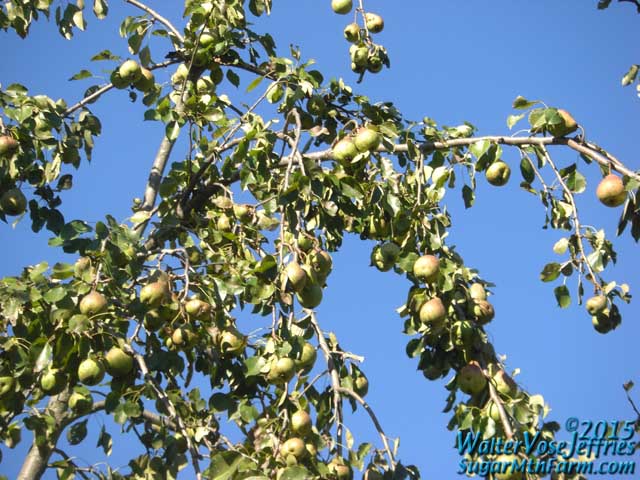 Pears in Blue Sky
These
pear trees
were planted at the same time, in 2005, as the
apple tree
above and are also having a bountiful year, weighed down with hundreds of pounds of fruit.
Out in our pastures we have hundreds of wild apple trees and they're doing fabulously this year as well. In the forest you'll sometimes come across a group of apple trees seemingly in the middle of nowhere. This means there was likely a house site there long ago – the early homesteaders back in the 1700's planted those trees or their ancestors.
We don't spray our apples, pears or any of our plants with herbicides, pesticides, fungicides, etc. They're just growing naturally. Key is that we keep a lot of chickens and they eat insects, the pigs clean up all the drops and there is plenty of ventilation between the trees. This allows us to raise them organically and easily. I like easy.
I plan to plant a thousand more apple, pear and nut trees. They are easy to grow and require little attention to produce a bounty of fruit for us and our animals as well as the wildlife. What ever you do in life, plant apple trees. Plant pear trees. Plant nut trees. Plant perennials. It is never too late.
Outdoors: 49°F/34°F Sunny
Tiny Cottage: 65°F/59°F
Daily Spark: I'm easily fascinated.