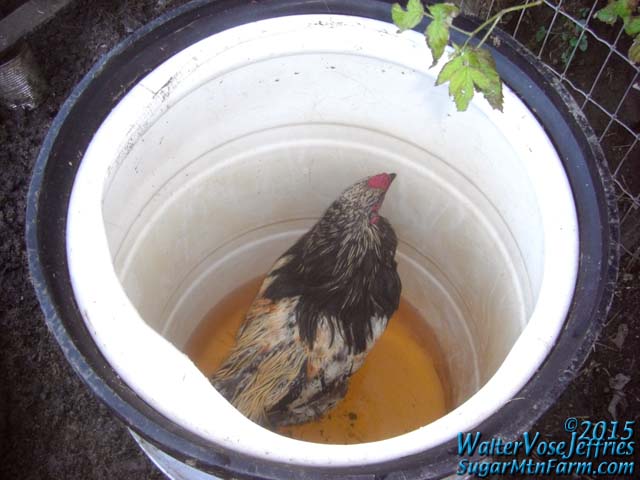 Hot Tubbing Rooster
I've mentioned before that we like to hot tub our livestock as an alternative to medications.[
1
,
2
] Hot water is very curative. This works on the same principle as a fever but is localized to the infection site. This way we can avoid using antibiotics and still kill the bacteria.
In this case Ben used a 35 gallon barrel. It is big enough for the rooster to stand comfortably but small enough that the rooster can't flap it's wings and jump or fly out. The rooster seems quite content with the setup.
This technique will work on a closed wound because it transmits heat deeply. There was a piglet with a swollen hock join that we recently cured this way.
In the roosters case it was an open wound, perhaps from cock fighting out in the field with another rooster. They have huge spurs which are an asset for protecting their hens from predators but once in a while the roosters will use their weaponry on each other during territorial disputes and get a direct strike.
The hot water goes in at about 110°F and we add a tablespoon of iodine to a gallon. The same of bleach would also work as an alternative if that is what you have on hand. If you don't have either, add salt to the chicken soup – That works too. Note, this is for sanitizing the wound and skin so this is stronger than you would use to make drinkable water – Don't confuse this with survival skills.
All of these help to kill bacteria without having to resort to the antibiotics that are of concern because they might create MSRA.
Outdoors: 54°F/41°F Partially Sunny, Fall Colors Coming On
Tiny Cottage: 65°F/60°F
Daily Spark: "The best" is pretty high praise. I'll accept being good and not very evil.