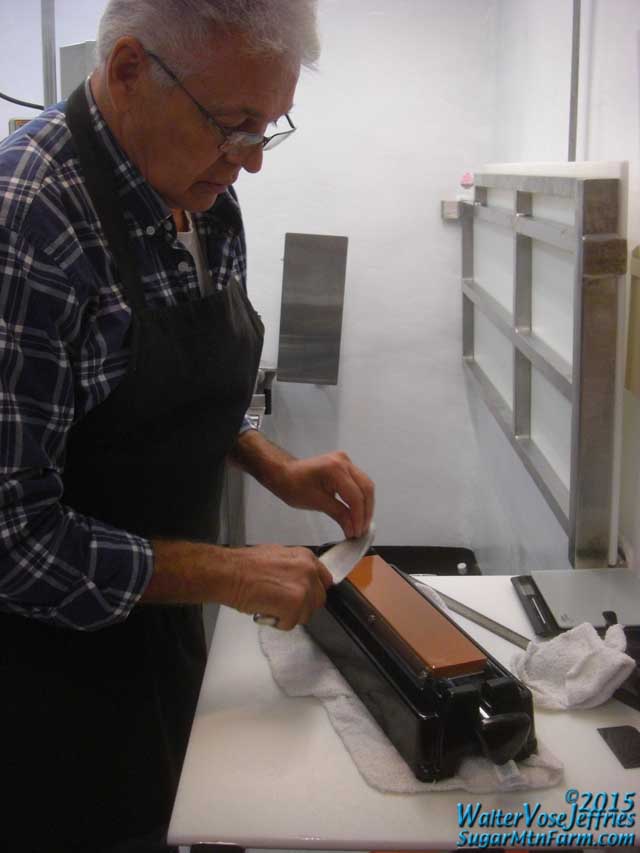 Master Butcher Cole Sharpening Knife
As I've mentioned before, we apprenticed for 18 months with master butcher Cole Ward to learn the art of turning a pig into cuts of pork. Cole has come back several times to consult on the
butcher shop
as we built out the facility. In July we
finished construction
of Phase I: Initial Cutting or iCutter as we call it and September 1
st
I submitted the final
paperwork
for our licenses. This will allow us to do butchering, the cutting of the carcass to packaged cuts, as well as sausage. Later we'll add our walk in coolers, smoking, the final cutting room, the abattoir to bring slaughter on-farm and eventually we'll finish off the cave for charcuterie.
Walter Commencing Break Down
This visit by Cole was our chance to work with him for the first time in our butcher shop doing a real pig. Previously this we have done a number of
dry runs
where we cleaned the room repeatedly post-construction and pretended to do a pig – rehearsals.
The other week we did two wet runs[1, 2] with halves of a pig that we cut outside of inspection for our own table. That worked further kinks out of the system – a necessary part of the soft start for the butcher shop.
This pig is the first pig for sale. It was sold as a carcass and cut under the custom exempt rules so it carries the words "Not For Sale" on the labels. Since we don't have our inspection license yet the meat can't be sold as cuts or wholesaled to stores or restaurants. That will come later once we have our Vermont inspection license – perhaps as early as next week. Then about 90 days after that, once we've completed validation, I'll begin the process of applying for federal inspection with the USDA so we can ship across state lines.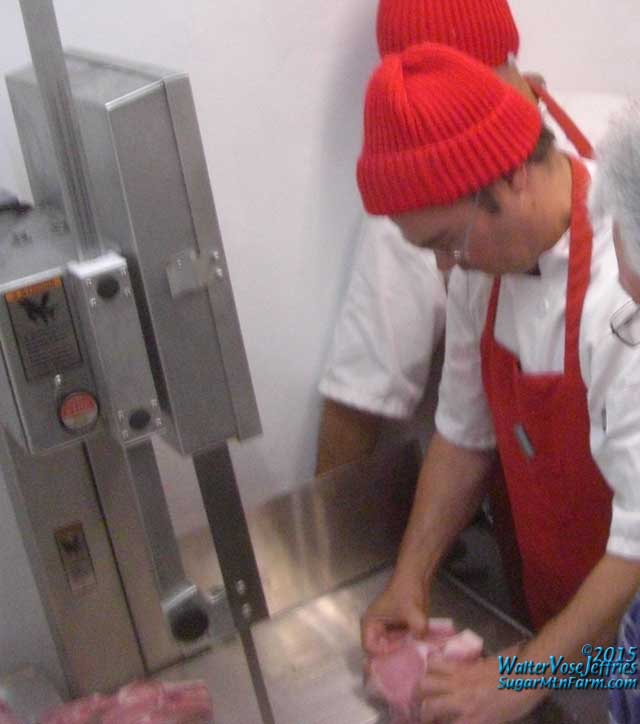 Will, Walter and Cole at Bandsaw Breaking Chops
We spent four hours in the morning with Cole going over the equipment, the room, the tools and gathering tips from Cole. Even after 18 months and three other consultation visits there is still much to learn, details to pickup.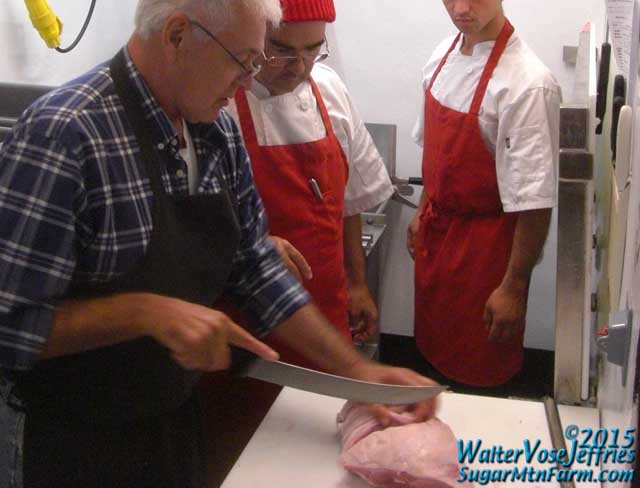 Cutting Tied Roast
In the afternoon we actually cut the pig. That took about four hours. Normally it would only be 20 minutes or so to do a side. The extra time was spent analyzing the many cuts we could do from each section and going over the fine details. That was what the day was all about.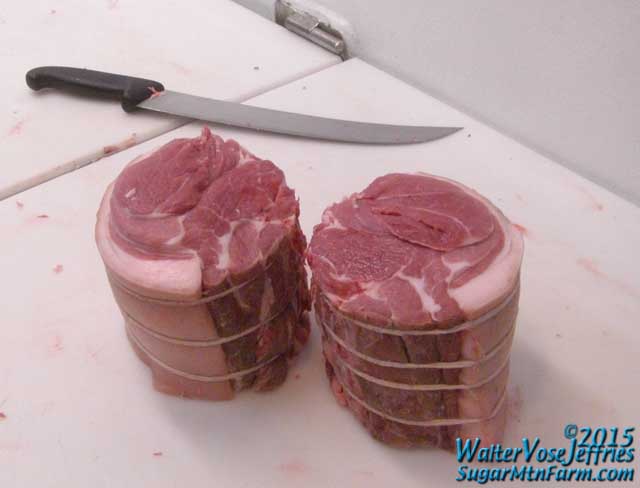 Boston Butt Roasts Tied and Ready to Package
Some lovely Boston Butt Roasts. The Butt is not the rump but the bottom of the hanging quarter when suspended by the trotter – a quirk of language resulting from the history of butchery. Check out the
Pork Cut Chart
for more about where cuts come from.
Walter with Ham in iCutter
Most of the west end of the butcher shop is dedicated to the chamber vacuum packer, her shelves and supplies. We vacuum package the meat as that removes air and keeps out bacteria. This helps prevent freezer burn spoilage and lengthen the shelf life.
We dry age our pork about a week which improves quality, flavor and tenderness just like with lamb and beef. This works with all types of meat. Additionally the meat wet ages in the vacuum packages as long as it stays fresh not frozen.
This brings up another funny quirk of pork: Fresh means not cured (salted) as opposed to not frozen.
Another funny factoid: butcher paper isn't paper. It's not recyclable and it's not burnable – or rather shouldn't be burnt. What is called butcher's paper is actually a composite of white paper and plastic.
One more advantage of the vacuum packaged plastic is that it uses less resources and theoretically could be recycled as a plastic bag if your local recycling drop off does that type of plastic.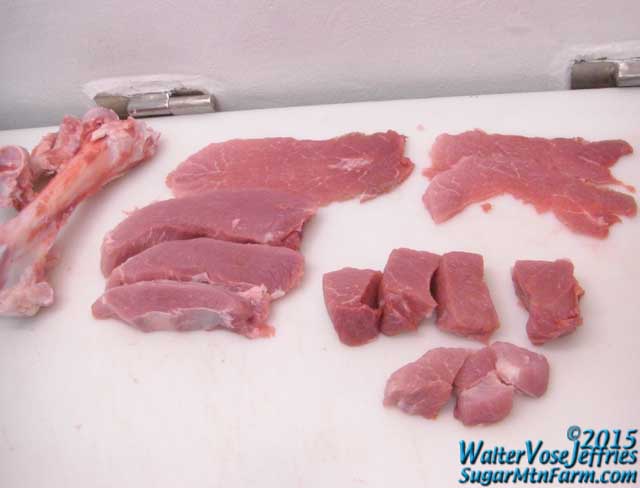 Fresh Ham Steaks, Filets and Kabobs (Cubes)
When you think of hams you probably think mostly of smoked hams. There are many other things that can be done with that cut of meat such as thin slicing for stir fry and
teriyaki
, steaks for grilling and roasts among other things.
As Cole likes to say, the meat that is further from the head and feet is more tender and conversely the more used muscles lower on the animal are tougher. For the high-on-the-hog tender cuts fast cooking is appropriate: think Boston Butt, tenderloin, sirloin, pork chops. For the more heavily worked and thus tougher cuts go with thin slicing and slow cooking.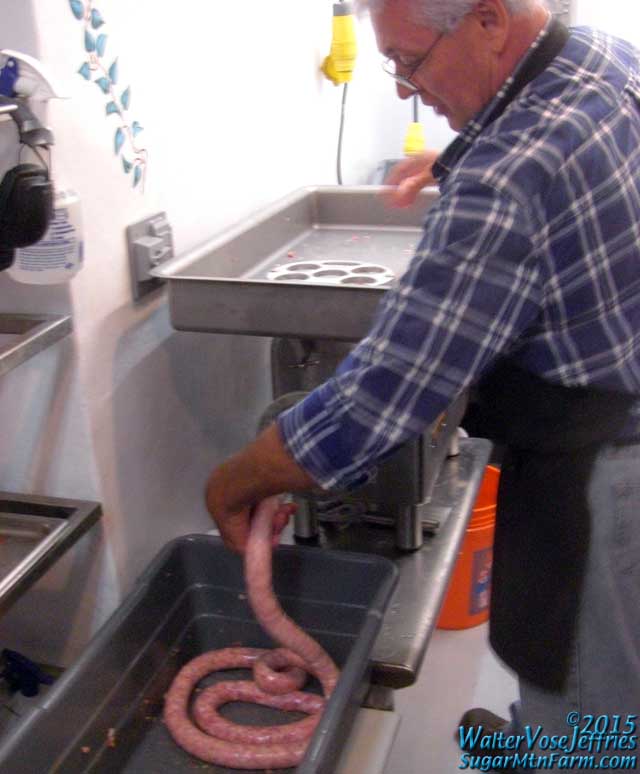 Cole Stuffing Hot Italian Sausage
After we got done cutting up the pig we ground pork. Grinding is another solution to the tougher cuts as it tenderizes by simply shortening the fiber lengths. Then you can spice it and optionally put the meat into sausage casings – a traditional use of the pig found across many cultures.
After 45 years as a butcher Cole Ward is now retired from the retail trade and does custom butchering at people's farms, homes, classes at colleges around New England and he's available to come to you if you are in the local area. If you would like Cole to help you butcher a pig, sheep, goat or cattle this fall give him a call at (860) 372-0681 or email him at colethebutcher@yahoo.com for details. Cole has also made a wonderful DVD set: The Gourmet Butcher …from Farm to Table… Beef, Lamb & Pork about butchering and written a book/CD set about butchering and his long career in the trade: The Gourmet Butcher's Guide to Meat: How to Source it Ethically, Cut it Professionally, and Prepare it Properly. Both are available on Amazon or directly from Cole. If you get them from Cole – ask him for his autograph!
Outdoors: 69°F/44°F Sunny
Tiny Cottage: 65°F/59°F
Daily Spark: As a general comment on baseball: "Baseball is 90 percent mental and the other half is physical." -Yogi Berra