As a background task while finishing constructing the butcher shop and getting our license I've been working on revising our order form and cut sheet. The goal is to make very clear what are the standard cuts for a pig while also presenting some of the options that are available with each primal as well as the expected yields and costs.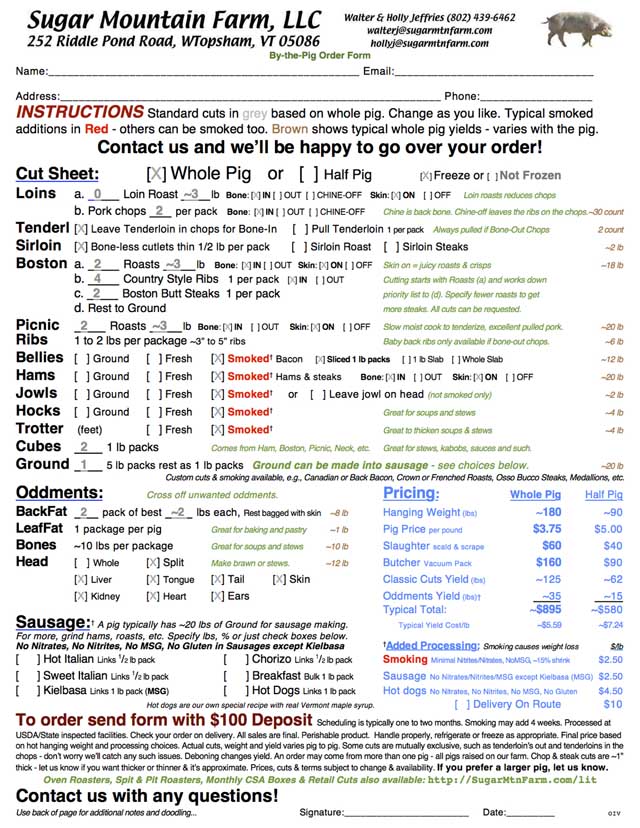 New Whole & Half Pig Order Form and Cut Sheet
Click for bigger version.
This is similar to the cut sheets we submit to the butcher with our pigs each week but this version has more user friendly explanations such as notes in green, standard cuts in grey, typical yields in brown and how the pricing works in the blue text area.
This pork cut chart is from the article What Good is a Pig: Cuts of Pork, Nose-to-Tail which is an additional related resource we print on the back of paper copies of the order form along with a link to the article. Another related article is Of Sausage and Law.
---
Feedback!
I would be interested in feedback on the new form so that I can further improve it – please leave ideas in comments.
---
If you have a small farm and want to use this cut sheet for ideas, feel free to borrow. The Pork Cut Sheet Below is also available for others to use unmodified and please provide a link back with credit to https://SugarMtnFarm.com
---
Ordering:
We are currently scheduling whole pig and half pig orders in early December and onward. If you would like to order,
email me
with any questions and send in the
order form
with a deposit. Additional information can be found on the
Literature Page
and the
Products-Whole & Half Pigs Page
.
Outdoors: 65°F/39°F Sunny
Tiny Cottage: 68°F/57°F
Daily Spark: "In my opinion, if 100% of the people were farming it would be ideal. If each person were given one quarter-acre, that is 1 1/4 acres to a family of five, that would be more than enough land to support the family for the whole year. If natural farming were practiced, a farmer would also have plenty of time for leisure and social activities within the village community. I think this is the most direct path toward making this country a happy, pleasant land." ―Masanobu Fukuoka, The One-Straw Revolution