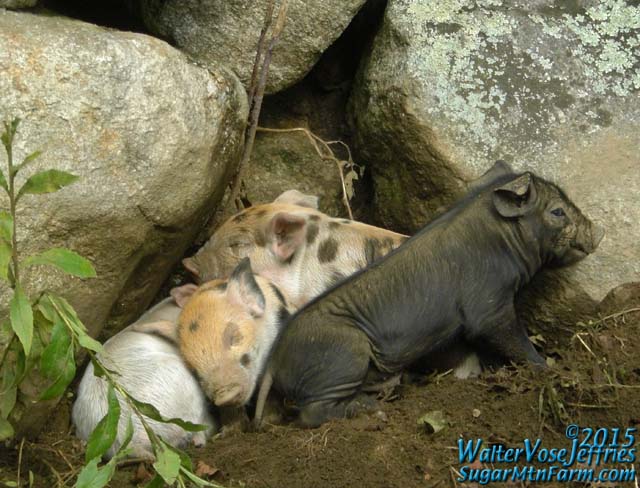 Piglets Sunning in Rock Wall
We've been having glorious fall weather. Many days of warm sun and scattered rains to keep the water table up. The pigs are enjoying the weather.
Sow with Piglets on North Home Field Pasture
This is one of our Yorkshire Mainline sows with piglets in the top paddock of the north home field. The pasture is filled with grasses, legumes (alfalfa, clover, trefoil, vetch), brassicas (broccoli, rape, kale, etc), millets, amaranth, chicory and other forages.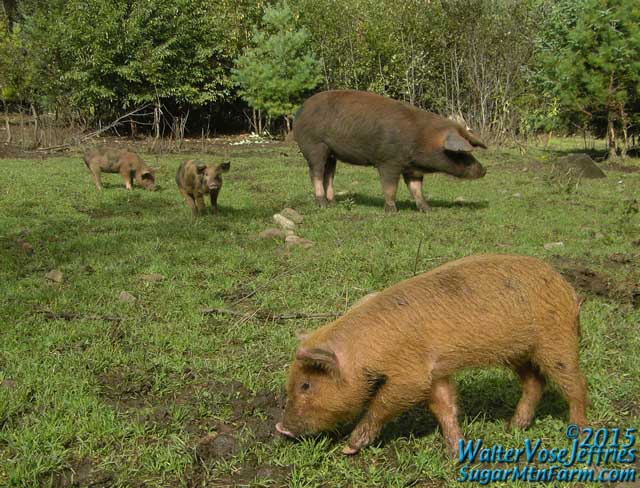 Sow and Grower Pigs North Pasture
This young P1 sow is in the north field pasture along with about 200 others including these smaller grower pigs. The forage height here gives you and idea of what the pigs graze the plants down to. Off to the far left you can see a small area they gave more attention to with a little light rooting to likely bring up some grubs and tubers. That will come back stronger once those insects and brushy plants are gone.
This is savanna style pasture with a mix of ground cover forages like the grasses as well as brush, fruit trees, nut trees and larger trees that provide a mix of foods and shade. Piggy heaven.
Outdoors: 74°F/49°F Partially Sunny, 2″ Rain
Tiny Cottage: 66°F/62°F
Daily Spark: Sometimes it gets easier if you clap with one hand.