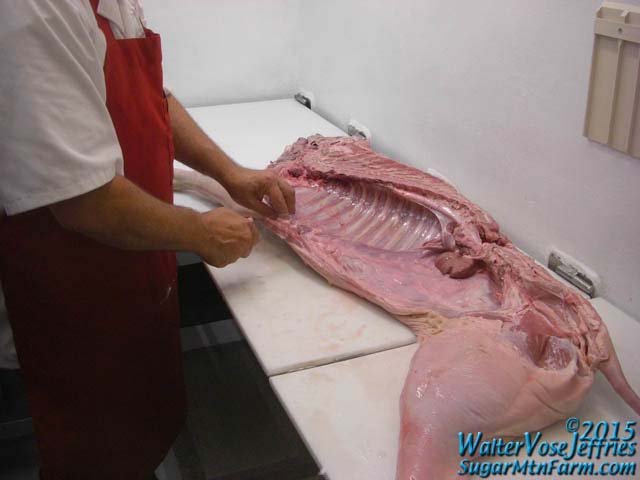 Walter about to break Primals on Skinny Pig
Yesterday I talked about doing our
initial dry runs
in the butcher shop. We are coming online gradually. Testing out systems. Today was the big day when we actually cut pork – Half a pig worth. This was our initial wet run, christening the butcher shop with pastured pork.
The first pig through the butcher shop was named Skinny Pig because she was not worthy of selling. She appeared to have an intestinal torsion that caused extremely poor weight gain. This happens about one in several hundred pigs, maybe one in a thousand – it's rare. The result is small muscles and little to no fat. The initial wet run pork would be cut outside of inspection and not for sale so Skinny Pig was the perfect candidate for our first practice run.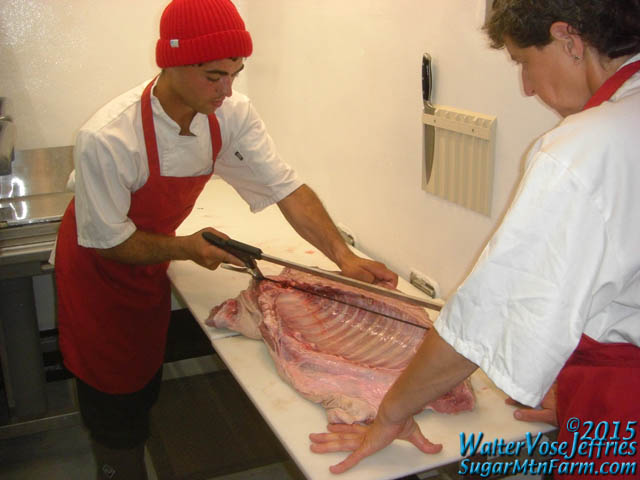 Rib End Cutting
Will joked that he was doing the ribbon cutting ceremony when he cut the 'rib ends'. Very appropriate. He's working on the fold down breaking table that when not in use folds up against the wall to give full access to the Hobart 6614 Meat Bandsaw.[
1
,
2
,
3
]
Packing Pastured Pork
After we did the initial breaking of the pig together we each shifted to our stations.
I was breaking the carcass, deboning and cutting over on the breaking table area before switching to grinding.
In the center Will was deboning, cutting, cubing and working sausage meat off the bones in the middle area of the room on the bridging table.
On the west end we used the packer for sealing the meat into vacuum sealed bags with her Minipack-America MVS45XII chamber vacuum packager.
The room is exactly the right minimum size for three, maybe four people to work efficiently. It could not be any smaller. Any larger would simply be extravagant. :) Because of this small size there are no wasted steps. But, someday when we have additional equipment like the emulsifier (a very fine grinder) for making our hot dogs we'll need the more roomy final cutting room (fCutter) we'll finish off later. Then the initial cutting room (iCutter) will become our warm kitchen (west end) and full size smoke room (east end).
Walter Grinding Pork
Skinny Pig was quite lean, maybe a 95% lean on the ground as can be seen here. I think I would normally want to add some fat from another pig to bring her ground up to a good moistness. For today's initial wet run I just ground the meat straight through to see how it came out.
One interesting thing was even though we only ground a mere five pounds of pork the grinder only wasted – what was left in the machine – about 0.18 lbs. That's very efficient. Normally one would do 25 to 100 lbs at a time as a minimum batch size and the waste will still be that very small fifth of a pound. This will make small batches of sausage possible.
The Hobart 4822 Meat Grinder is very powerful and amazingly quiet. I have earphones on in the picture above because I had been using the bandsaw earlier which is quite a bit louder. I'm pleased with the performance of both of them.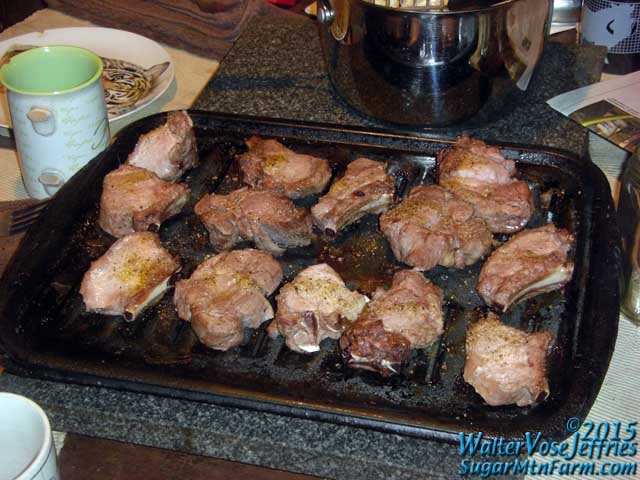 Rewarding Dinner
We finished off the day with a delicious dinner of pork choplets and steaklets for the farmer butcher family in training.
Outdoors: 74°F/51°F Sunny
Tiny Cottage: 66°F/62°F
Daily Spark: Practice approaches perfect.