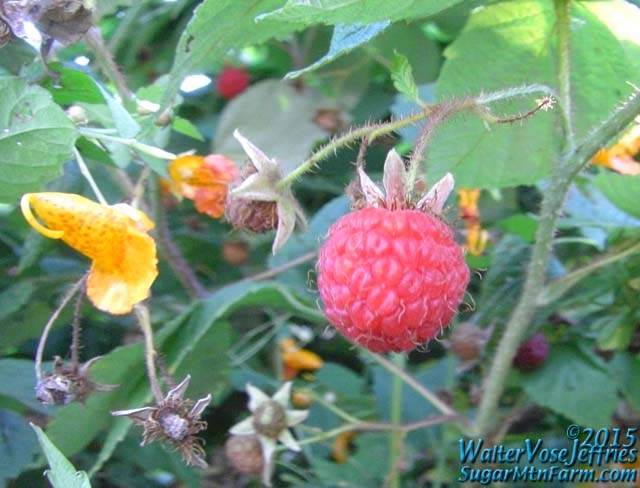 Perfect Raspberry
We've been enjoying the bounty of raspberries for over a month. It is not quite as plentiful as last year but still a very good year. These grow wild all over the mountain. They do particularly well with the savanna style pastures we have that have a mix of open areas and woods which creates a lot of edges. Both the wild flora and fauna fare well in such a setting.
Outdoors: 68°F/52°F Sunny, 1″ Rain
Tiny Cottage: 66°F/62°F
Daily Spark: I am working on a time travel machine in my spare time. If I had more spare time I would get it done faster and then that would be off my to-do list so I would then have more spare time. Once I'm done I'll go back in time and finish inventing the time machine so then I'll have the spare time to finish inventing the time machine sooner! Unfortunately, further research has revealed that if we are in a Universe that allows time travel into a malluable past then it is not the final stable Universe such that time travel into the past will destroy this Universe ultimately leaving only the one stable Universe where time travel into a malluable past impossible. This may be why my time travel machine does not work. I, or someone else, already did it.