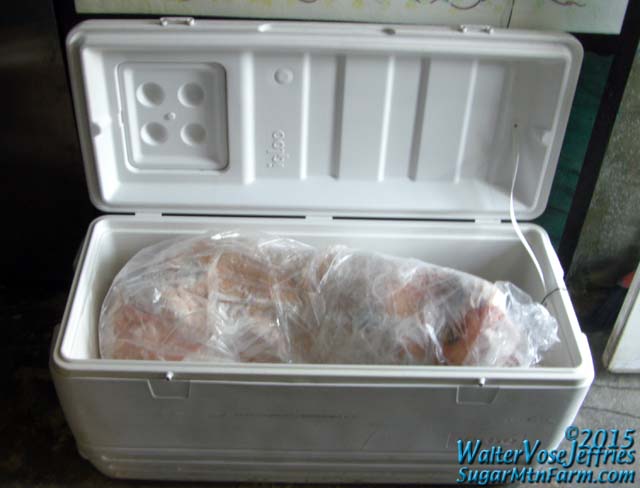 88 lb Roaster in a 120 Quart Cooler
I've been logging the sizes of roaster pigs since a frequently asked question is:
How Big is that Piggy in the Window?
More accurately, the question is
Will the pig fit in my cooler, pit, roaster box or oven?
The roaster pig above was an 88 lb pig that measured 38″ long by 14.5″ tall by 9.5″ wide. That is with the legs folded forward as shown in the article "How to Roast a Pig with a Rock." Add about 50% to the length for fully extended rear legs if doing a spit roast. e.g., A 38″ long pig cooked on the spit with the legs extend might need about 57″ or so of spit length – probably not that much.
Most oven roasters are in the 20 to 40 lb range, much like cooking a turkey. Some people like them as small as 10 lbs for very intimate dining. Note these are dressed weights after scald and scrape – all ready to brine and cook.
Check out the Roaster Page see the developing table of weights and measures for roaster pigs.
For guestimating live pigs with a string see:
How to Weigh a Pig with a String
Outdoors: 78°F/50°F Sunny
Tiny Cottage: 69°F/61°F
Daily Spark: You don't have have to believe in evolution.