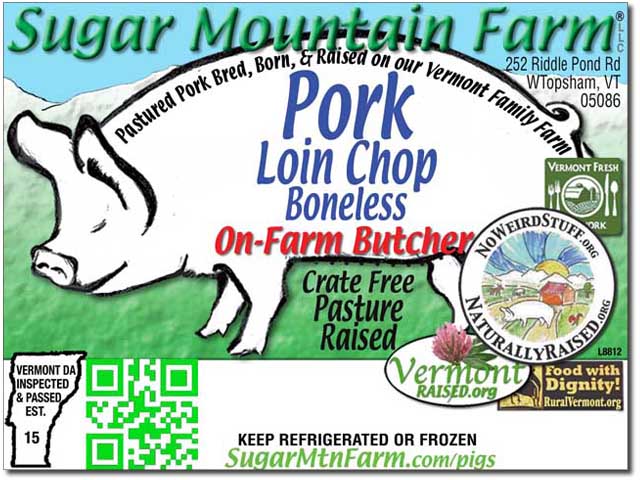 Sugar Mountain Farm On-Farm Butcher Label
The other week I submitted our new label artwork for a verbal approval, sort of a pre-approval prior to submitting all of our paperwork. Today I got back an unofficial okay so here it is for all to see. This is based on the
label
we have been using for almost a decade that I designed in 2007 and print on our
Primera LX400
label printer.
I just got off the phone with the head of meat inspection going over some more forms I had designed for our HACCP, SSOPs, SOPs and GMPs. For those not initiated in the arcane nomenclature and acronyms that is:
Hazard Analysis & Critical Control Points – how we make sure that the meat is healthy and safe.

Sanitary Standard Operating Procedures – how we make sure we're doing things in a sanitary manner.

Standard Operating Procedures – ways that other things not related to sanitation are done.

Good Manufacturing Procedures – more related to quality and worker safety issues than food safety and sanitation.
All of these build on each other from the bottom up with the goal of producing safe food.
Down in the lower left corner of the label you might note the Vermont State Meat Inspection Logo. The number '15' is our establishment number.
This weekend I'm hoping to finalize all the paperwork. If all goes well I'll submit it Monday or Tuesday after doing a final dry run here with family.
Soon our butcher shop will be online and we'll be cutting our own pork here on the farm under Vermont state inspection!
Outdoors: 77°F/54°F Sunny
Tiny Cottage: 69°F/64°F
Daily Spark: If you want to put down a pig, say its bacon tastes like carrots.