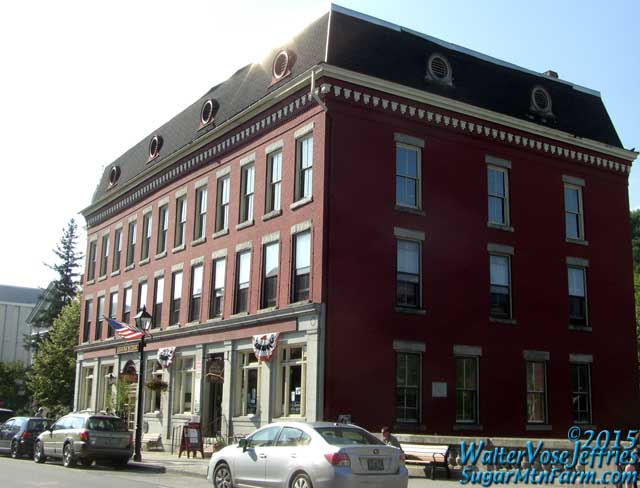 Montpelier Building by Bridge
No photo of today's topic because when a 1,000 lb boar has his tusk stuck on the fence you don't lollygag around with a camera.
Today Spitzon hooked a tusk on the heavy duty stock panel fence. His natural inclination is to pull back to get away from the problem. Pigs are not very bright, contrary to Hollywood movie magic mythology. Spitzon is about 1,000 lbs and
his brain is about the size of a chicken egg
. Most of his brain is dedicated to smell. Then to sight. Then to sex. Pigs have very little left available for problem solving. They mostly deal with things on an instinctual basis. Push, root, withdraw.
Spitzon was in withdraw mode. His tusk hooks backward and had caught on the fence such that he could not backup. Backing away from the threat, the fence, was the only thing on his little piggy brain but that just hooked him more securely. I tried coaxing him forward. No go in the slightest.
I tried pushing him forward from the back. It's like moving a mountain. Not only does he out weigh me by about six times but he has four on the floor and he was pushing backward with all his strength. It's amazing his tusk didn't break off. They're made of pretty strong stuff.
Ben finally arrived with a pair of heavy duty wire cutters and while Spitzon continued to pull backwards, thus tensioning the fence, I clipped the 4 gauge wire. That was the easy solution and it worked. I now have a slightly larger hole in the stock panel which hopefully won't be a problem. I removed the two extra pieces of wire created by freeing him so nobody would catch themselves on those.
Pigs have been bred for fast growth, huge muscles, fat and their ability to turn nearly anything edible, even rough pasture and waste food, into high quality protein and lipids we can eat. Pigs have not been bred for brains. They need just enough brain to do their job, no more. Brawn over brains is their rule. They also lack cooperation. Beauty is in the eye of the beholder so we'll leave that for another discussion.
This contrasts with dogs who have been breeding us for millions of years to be their cooperative brainy servants. They selected us for opposable thumbs and enough brains to make warm fires, remove thorns, ticks and help hunt down large prey. The nuclear weapons and cell phones were a side effect.
So if you have a big boar standing next to your fence not moving consider that he may be stuck in a box of his own making, miming the walls only he can perceive.
Outdoors: 72°F/57°F Sunny, 1″ Rain
Tiny Cottage: 68°F/61°F
Daily Spark: Warning on laser: Do not look into laser with your remaining eye.