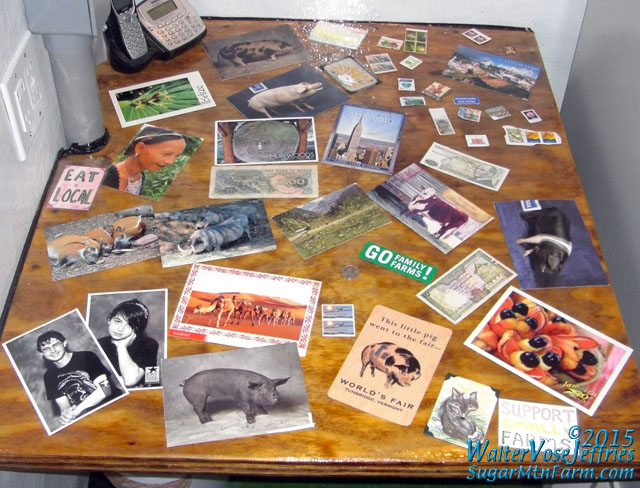 Temporary Arrangement of Postcards, Coins, Stamps, Photos & Drawings
Click for Big Picture
Back in July I requested
Postcards for the Inspector's Desktop
. The response has been great from people around the world. Our current greatest distance for postcards travelled is Anita in
Australia
.
We also have a coin from
Vanuatu
, previously known as New Hebrides, via David so I'm not sure if that might be just as far as Australia although David's currently in California so I think we'll still give the distance award to Anita in Australia – unless someone can beat her such as a postcard from the International Space Station when it is in opposing orbit from Vermont!
There are also coin, bills, photos, drawings, stamps and more from France, Jamaica, Canada, Colorado, Connecticut, Bahrain in the Mid-East with Camels on it and a Mug from Philadelphia Zoo. The mug is going to prove challenging to laminate into the desk… :)
The record for the closest postcard goes to Rick and Sarah who live just over the mountain from us. They sent a very unique wooden postcard from the Tunbridge World's Fair. Very cool!
The deadline for entries to the inspector's desk project was originally to arrive by 8/15 but I'm going to extend that to be postmarked by 8/15 as long as I get them before I go to do the desktop lamination process which will probably be a week later. The extension is because several people have let me know they've dropped their postcards into the mail. So there's still few days if you want fame, fortune and fun! Or at least a chance to have your postcard, coin, stamp, bill or picture appear in the inspector's desktop in the Sugar Mountain Farm butcher shop!
Send to:
Sugar Mountain Farm
252 Riddle Pond Road
West Topsham, VT 05086 USA
I'll pick the best candidates to encapsulate for prosperity in the inspector's desk!
Enter now!
No purchase necessary.
Void where prohibited.
Walk on the grass…
Outdoors: 68°F/64°F Sunny
Tiny Cottage: 68°F/65°F
Daily Spark: Fame is a fickle mistress who sometimes warms my bed.