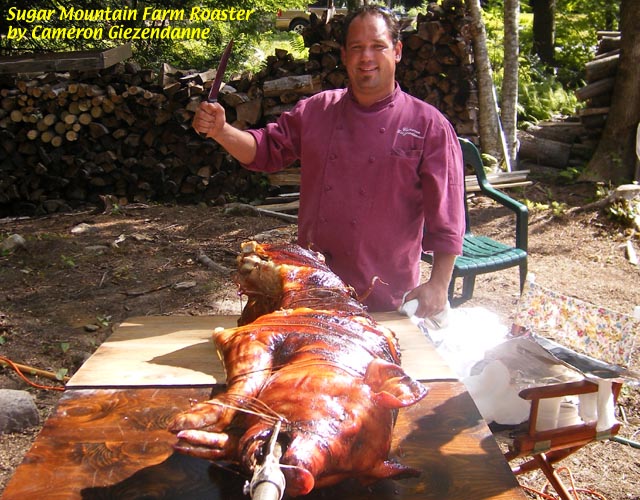 Pig Roast by Chef Giezendanner
We have some roaster pigs in the freezer that are available for immediate events and more in the field. Roasters can vary from the intimate ~10 pounders for a few friends to larger spit roasters up to 200 lbs to feed a village.
Available now in the freezer:
13 lb @ $150 + $60 processing = $210
34 lb @ $170 + $60 processing = $230
88 lb @ $440 + $60 processing = $500
Other sizes are available in the field and typically take about three weeks to get into the butcher's schedule.

Contact us with your roaster pig needs. See the Roaster Page for details.
Delivery is available around Vermont on our weekly route or pickup here at the farm and see the pigs out in the pastures and our new butcher shop.
Outdoors: 74°F/53°F Sunny, 1/2″ Rain
Tiny Cottage: 69°F/62°F
Daily Spark: Life is short…eat the bacon.