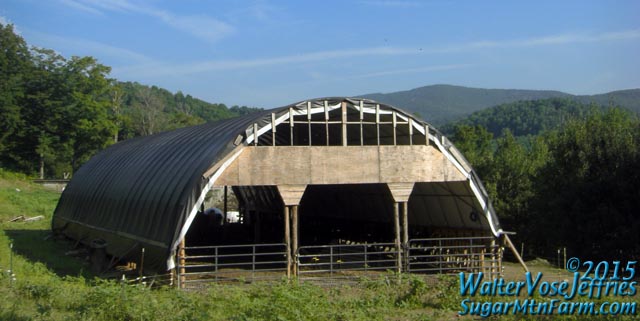 South Field Greenhouse Ark
The Ark is a much emptier place now in the summer. It's a temperate, shaded space of about 38'x96′ with the lovely deep bedding pack of wood chips but I only occasionally find pigs in it. Eventually I want to put on the translucent greenhouse plastic but there is no rush.
While they do have free access to 75% of the space inside they are more interested in being out in the pastures where they can graze and find shade under the trees and brush. This is an even
lower density
than winter to say the least.
Our pastures are savanna style with areas of open ground covered with forages and then brush and wooded areas scattered around the margins and in the middles for shade. It is piggy heaven.
When we built the Ark I had wondered if the pigs would want to use it in the warm months. It stays pleasant since it is open at both ends but they find more interesting fare out on the pastures where food is just a step away. This is good as my ultimate plan is that the pigs will get to use the open greenhouses during the winter months and then during our relatively cool summer months I'll get to use the greenhouses for growing plants. Come fall I'll rotate the pigs back in. This way the plants will use up the nutrients and then the pigs will eat the plants. A nicely balanced cycle.
Outside of the Ark on the South Field Plateau I planted pumpkins, sunflowers, amaranth, oats, clover, turnips, beets, broccoli, cucumbers and alfalfa which have come in nicely. It has been a poor year for one of my plantings of sunflowers – we got an ill timed rain – but some other things are doing very well.
Corn was a complete bust. I usually try and grow a small patch but of the 120 plants only four came up. I think the rest of the seed rotted in the soil as we had a cool spell. I don't grow much in the way of corn because it grows so poorly here but it is nice to have a few ears for our own table. Not this year.
The pasture forages have done very well including the brassicas. Pick and choose what does well and always plant a variety. That is the lesson Mother teaches.
Outdoors: 77°F/54°F Sunny
Tiny Cottage: 70°F/66°F
Daily Spark: Warning on emulsifing grinder: Keep your remaining fingers out of the chopper.