Nine Piglets in North Home Field
A Piglet-Fix for those in need. These little piglets are hitting that maximum cuteness stage designed to pull the heart strings of mammals everywhere. It's a good evolutionary strategy.
Following Their Sow
Here they were a few days ago and much smaller. Sow's milk is very rich at 6% fat and full of protein. It is the ideal food for rapidly growing baby pigs out on pasture.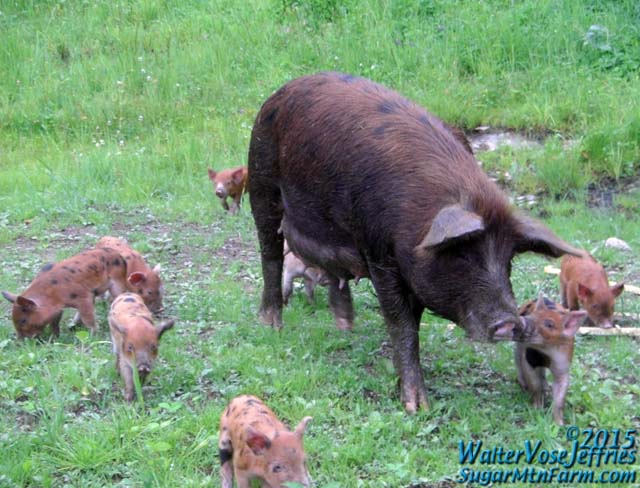 Sow on Move-in Day
This sow had farrowed further south on the strawberry level. Will moved her north to the sorting pen for privacy and then we moved her into the north home field about a week later once the piglets were highly mobile.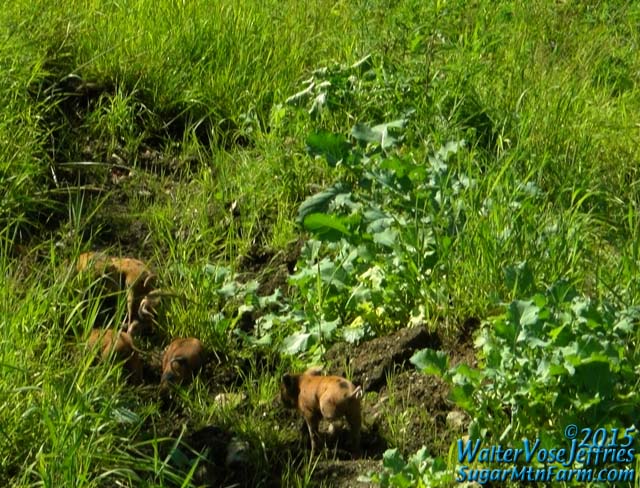 Piglets in Swale
Even at just seven days old they immediately began eating soft grasses, clovers and other forages with their mother. We do
managed rotational grazing
with our pigs just like with sheep, goats, cattle and such. This simulates natural migratory patterns of land use, breaks parasite life cycles and prevents soil compaction while improving soil quality and forages. The little piglets digestive tracts won't be up to par for digesting pasture as their full diet for another two weeks but they're already getting some nutrition and learning what to eat at the snout of their sow.
They're also enjoying exploring the swale will dug out with the tractor backhoe. This makes it so the water flows south along that terrace in the north home field, over to the sow's small wallow and then through the stone culvert under the northern troll's bridge.
Not Their Sow
This sow is not their mom but rather one of the ladies who lives in the north field with our big Berkshire boar Spitz and his sub-boar Sox. Spitz is perhaps 1,200 lbs and Sox is about 300 lbs. It is a no-contest situation. If Spitz says jump Sox does not even wait to ask how high. Fortunately Spitz is pretty gentle. His son Spitzon who now has the south low field as his domain is much closer to Spitz's size and Spitzon is now big enough that he considers himself to be a heavy weight contender. He's right. Thus they have separate boar territories and the ladies move around between them for control of breeding.
The fencing equipment is a spinning jenny for unspooling high tensile wire. Will is working on putting up the fence line along the west side of the north home field road. This creates a truck wide path out to the north field.
Wallow at Troll Bridge
By the troll bridge is a small wallow for the north home field pigs. The troll is still quite small so he doesn't bother pigs. The sow is walking north along the road that Will built in June that connects our driveway with the north field. There is a temporary fence that keeps her on the road and out of the work area where new fencing is going in now.


Woodhenge in Vermont
Click for Big Picture
The reddish orange thing is the rake for the tractor.
The double row of posts are the start of the east side of the foundation for the new north greenhouse we'll be putting in this fall for Spitz and his ladies.
See if you can spot the piglets in the pan above. Click the picture to get a much larger version. Hint
Near the swale
Can you find the 4′ level?
Did you spot the shovel?
Is that the same sow?
How about the big slab of granite Will hasn't used yet?
Can you find Will in the photo? He's almost out of it.
Some Related Reading:
One Day of Rotational Grazing
How Much Land Per Pig
Pasture Post Pig Grazing
InstaPigs and Animal Units
North Home Field Sow and Piglets
Sugar Mountain Farm Pigs: Feeding and Grazing
Vet Visit Field Tour
Painted Probed & Pierced Pigs
Sorting and Driving Pigs
Outdoors: 80°F/60°F Sunny
Tiny Cottage: 69°F/64°F
Daily Spark: Buy from local pasture based farms. Vote with your wallet. It is a great power you have.