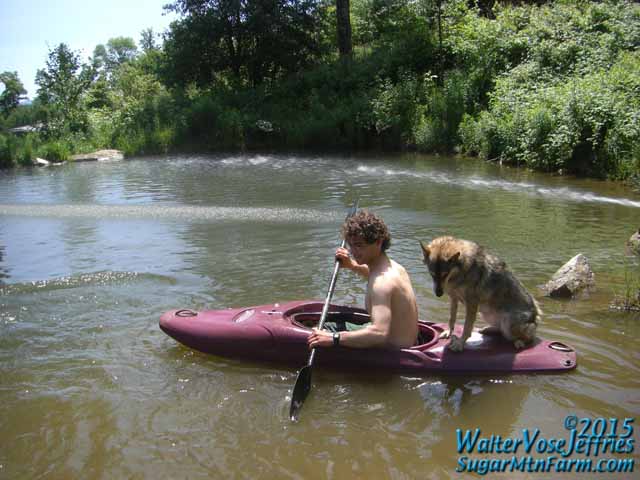 Will and Kimsa Kayaking on Upper Pond
Life is not all hard work on the farm. Our
upper pond
is a great place to cool off and play. The reservoir is our storage basin to make sure we can get through a dry year. It's not a big pond but it is big enough for fun. Over the years I've been gradually making it deeper as the bank's hardened and Hope grew taller.
Will doing the Kayak Limbo under Spring Spray
In the background of the first photo you can make out the pulsing spray from the
sap house spring
water
fountain
that comes down the mountain through over
2,000′ of pipe
with about 165′ of head. It shoots quite forcefully across the upper pound creating a limbo line for kayakers.
When pointed straight up the fountain goes 40′ to 70′ up in the air depending on how the nozzle is constricted and how full the pipe is which depends on the flow into the sap house spring head at the top. Pretty impressive – a cooling mist for the whole area.
Outdoors: 74°F/54°F Sunny
Tiny Cottage: 68°F/62°F
Daily Spark: Stay calm…Unless you believe in the random orbital patterns of a Universe filled with potatoe chips headed for the Big Crunch.