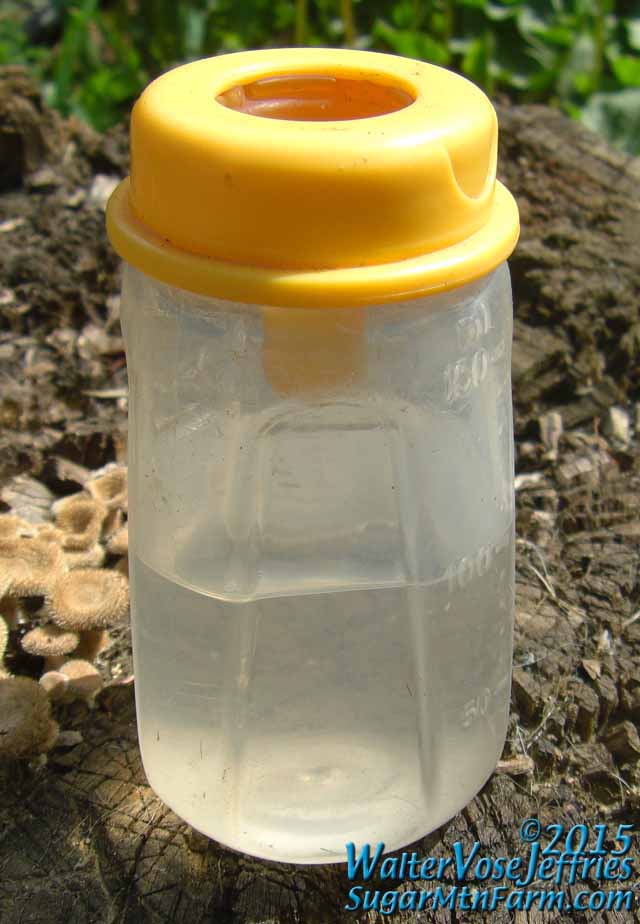 Inverted Nipple
When I am doing vaccines I like to have
isopropyl alcohol
available for dipping tools and needles. The problem is it's all too easy to spill a pail of C
3
H
8
O. While feeding a kitchen pig I serendipitously dropped the bottle and had an epiphany.
Flipping the nipple around lets me stick my tool into the bottle. This works extremely well with the
multi-shot injectors
I use for vaccines when
weaning
piglets and breeders.
Tip: Did you know that Skatole, the primary smell component of shit, is alcohol soluble? I discovered this while doing my boar taint research years ago. If I have shit on my hands, I wash them with soap and water and then isopropyl alcohol which puts the skatole into solution so it can rinse away taking the otherwise hard to remove smell off my hands. Isn't science fun? And practical too!
The level of the bottle above is low because that is what was left after a session. When I am all done I dump the remaining alcohol into the 140°F hot water bath I'm using to help sanitize my equipment post pig shooting. A couple of minutes of that and the volume repeater syringes, notchers and such are ready to dry and put away for the next session.
Outdoors: 65°F/41°F 1″ Rain, Sunny
Tiny Cottage: 66°F/62°F
Daily Spark: It is better to complain about something you can control like the weather than the government.