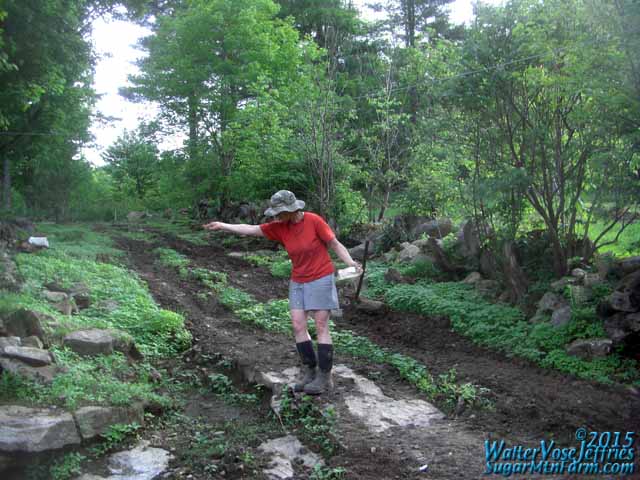 Sprinkling Magic Dust
Will had been picking rocks out of the lane and fields to pave and fill the new road he's building to give access to the north field. The tractor chains roughed up the ground very nicely creating a great opportunity for planting.
This weekend we seeded the bare patches with chicory, flax, amaranth, tobacco, various clovers, brassicas, alfalfa, soft grasses and sunflowers. Meanwhile Ben hand broadcast about 300 lbs of oats, buckwheat, winter rye, alfalfa, clover and brassicas out in the far south field, south field and north field. All of these are areas that the pigs are going to be off for a few months or even until next year so the new forages will be able to set well.
We do hand broadcasting of seeds because most of our land is too steep, stumpy and stoney to machine work. Planting like this is like sprinkling magic dust. We walk along waving our hands. We do not feeling like we're really accomplishing anything as the job is "too easy" to call it work. Then magically plants grow.
What we're doing is storm seeding. We're working with Mother Nature. It had already rained to moisten the ground and I knew it would rain more overnight. The pounding action of the rain drops drive the seed into the ground. This works best with smaller seeds but also can be effective with seeds as large as sunflowers and oats if we get a hard rain.
Magic dust. Magic beans. Magic in the mountains.
Outdoors: 53°F/39°F 2″ Rain
Tiny Cottage: 66°F/62°F
Butcher Shop: 53°F (iCutter)
Daily Spark: Our van has a manual hydraulic transmission. That sounds like an oxymoron but it's just an old Frankenstein.