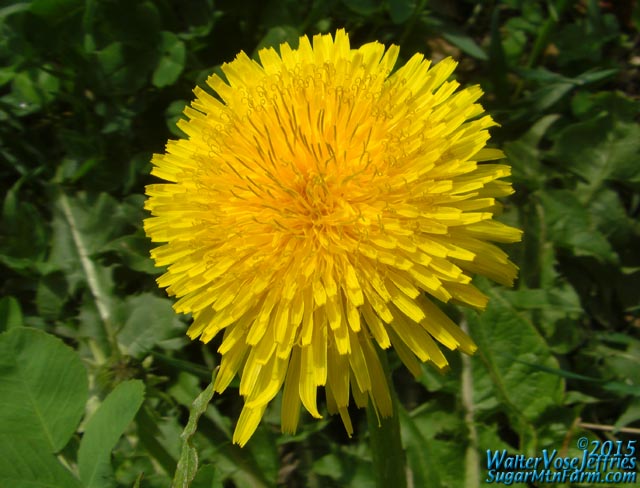 Dandy Dandelion (Taraxacum)
When we bought the farm, which was abandoned at the time, there were no dandelions here. Our early spring flowers were trillium, skunk cabbage, cow slip and coltsfoot. The latter, the
coltsfoot
, looks very much like dandelions, but isn't.
Dandelions grew down in the valley a mere 600′ lower in altitude but not here. Similarly we have no oaks although they grow well down lower in the valley. I have a solution to these problems though: I plant.
Years ago the kids and I gathered the delicate white puff ball dandelion heads as they were going to seed. We blew their parachutes out across our pastures spreading them on the winds. The next year there were a few here, not many. Then more, and more.
I love dandelions. They're an excellent plant to have in the pastures. They bring water and nutrients up from deep in the soil. They're excellent forages for the livestock to eat. And people can eat them too. Perhaps most importantly of all, they're beautiful and fun. One of those signs of summer coming around again.
Outdoors: 74°F/49°F Mostly Sunny
Tiny Cottage: 66°F/62°F
Daily Spark: Mistakes offer the opportunity for survivors to learn.