Delicious Oven Roaster by Sariann Lehrer of Inn at the Crossroads
We have five oven and small spit roaster pigs available in the freezer running from 11 to 54 lbs. Some are small enough to fit in a typical home oven, much like cooking a ham or turkey. Others are perfect for a spit, pit or China Box roaster. Most of these are small enough to ship.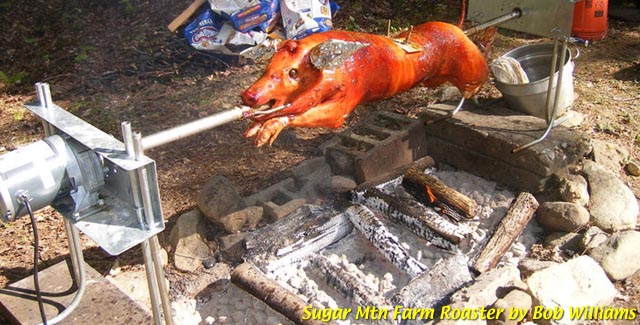 Hot Pig Roast on a Spit by Bob Williams
The roasters are $5/lb plus $55 processing. Pricing and details can be found on the
Roaster Page
. These can be picked up at the farm, delivered along our weekly route in Vermont or we can ship them FedEx 2nd Day which typically runs about $80 to $200 depending on the shipping destination.
To order contact me at walterj@sugarmtnfarm.com via email. If you need shipping then let me know your zip code.
Outdoors: 79°F/59°F Mostly Sunny, Rain in the Evening
Tiny Cottage: 68°F/64°F
Daily Spark: Most quotes are out of context. The other 50% abuse statistics.