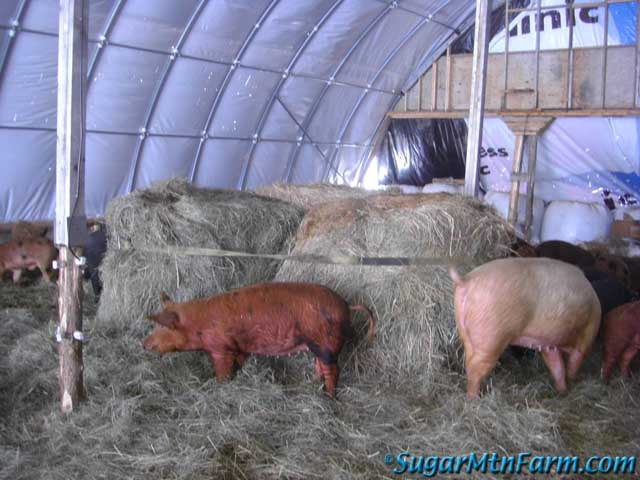 Strapped Round Hay Bales in South Arc
There are a lot of little tricks to feeding hay like the strapped bales shown above in the open south field greenhouse.
Hay bale orientation makes a difference in the speed with which the animals break down the bales.
Feeding up on a deep bedding pack makes it so that excess isn't gets put into the composting bedding pack where it generates heat and becomes more digestible.
Spiking the bale with a T-post keeps it from rolling.
Placing a bale against a fence to start with keeps the pigs from moving it against a fence you don't want it against. Pigs just push.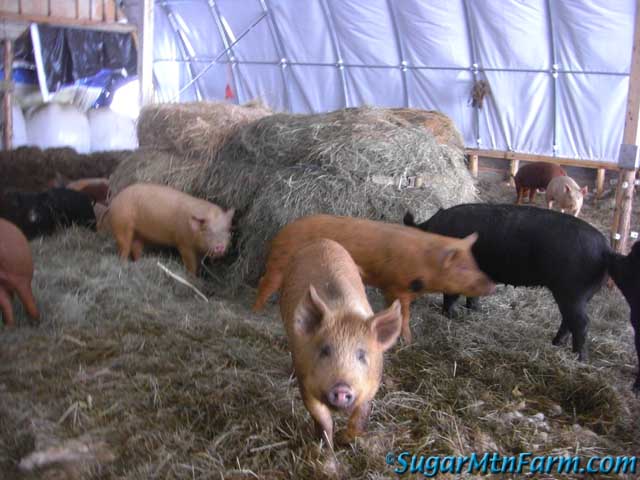 Hay Bale Feeder
What's being demonstrated in these photos is strapping the bale. This can be done as a single bale that is spiked on a T-post or multiple bales strapped together. The strap is cinched tight to keep the hay fibers bound more tightly. Check it daily and cinch it as needed. This slows down the rate of breaking the bale and keeps it from rolling around. If it is a single bale the T-post helps a lot.
Outdoors: 61°F/39°F Sunny
Tiny Cottage: 67°F/63°F
Daily Spark:
A near infinite number of mathimeticians walked into a bar.
The first asked for a beer and each one after asked for half as much beer as the previous one.
The last of the infinite number of mathimeticians was a physicist – he said to split the atom.
The next mathimetician was a quantum mechanic who asked the bartender to maybe serve him a beer.
The mathimetician after him was a statistician who said to probably give him a beer.
After the statistician a psychiartrist walked in and asked the bartender to think about giving him a beer.
Then came a philosopher who suggested the bartender not think about serving him a beer.
Lastly a Zen Master appeared who asked the bartender not to think.
By then it was 2 AM and the bartender called the bouncer to close the house down.
Puzzle me this: How many beers has the bartender served to these many customers?Bonus question: Obviously there were not really an infinite number of mathematicians but can you figure out roughly how many mathematicians if the bartender was serving pints?