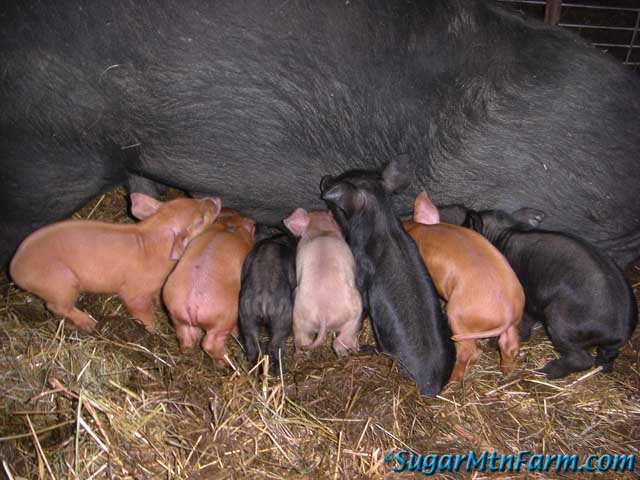 First Piglets Born in South Field Greenhouse
This is one of our Blackieline sows with her third litter which is the first litter to be born in the
south field greenhouse
, christening it for farrowing.
We have split the greenhouse area so about a quarter of it is in use by the herd which is how much they were naturally using prior to the internal fencing division. The other three quarters is set aside for ten sows and gilts who are in late gestation. As we end up with a spread of ages in the greenhouse we will likely subdivide that 75% floor area to three paddocks although soon they'll be farrowing out in the field.
The greenhouse is situated at the south end of the south field plateau. The sows in the greenhouse walk north to the south field shed for water and whey where there are four other sows who farrowed recently. Those sows are already taking their piglets out for walk about on the plateau to enjoy the warm spring sun as the snows melt.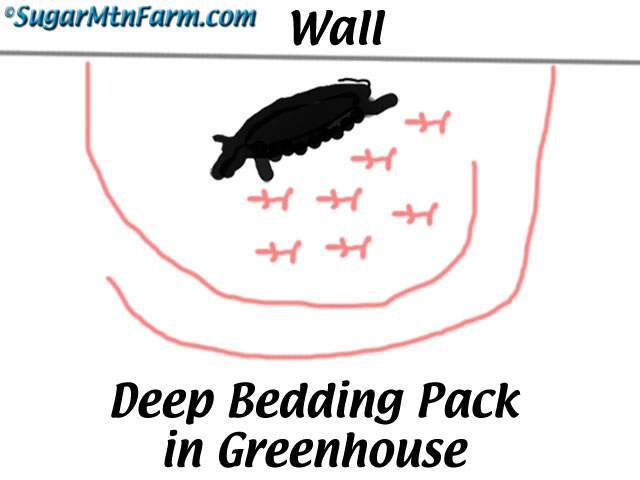 Farrowing Maze
When the sow above farrowed we setup a simple maze around her of two stock panels – this creates a distance in travel giving her the privacy she would naturally seek out in the brush on pasture during the warm months.. The maze has an opening where she can easily go in and out but other sows stay out of her nest – they are not motivated to navigate the labyrinth. This is a trick we have used out in the
field
and in the south field open shed for years.
She has just seven piglets in this litter – winter litters are often a little smaller. Litter size has some seasonal component to it which I have read is related to light levels, is highly dependent on nutrition (winter hay is not as good as fresh summer pastures) and controlled by many other factors. All of the piglets are robust and healthy and she is a very good mother with a good situation. What really matters is how many wean and ultimately how many finish so I'm pleased.
Outdoors: 46°F/34°F 1/2″ Snow, Sunny
Tiny Cottage: 67°F/62°F
Daily Spark: Sometimes people who take offense simply need to be offended.