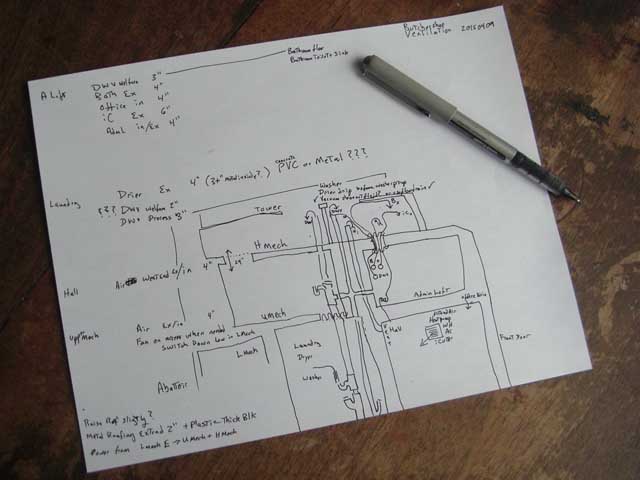 Ventilation Notes
This winter I got hit hard by influenza and was down for seven weeks. Apparently the virus let in a not so friendly bacterium, or few, and my lungs got infected. After two courses of antibiotics I can breath again. A great relief!
Once I was mobile again I wired up the laundry, the next section outside of Admin and iCutter and then did the lower mechanical room and the two hot water heaters. One is a heat pump that slowly but efficiently sucks energy out of the air while delivering cool dry filtered air to the work processing space and incidentally delivering 145°F hot water. The other is a super booster that takes the pre-heated hot water up to 185°F for sanitization. This allows us pre and post sanitize the cutting room without having to use the harsh chemicals. Heat kills.
Once that was completed Ben and I began working on the ventilation system. Will had already put in the duct work from the heat pump and the panel with the vent for me while I was sick. Ventilation handles several independent systems. The separate process and welfare DWV septic systems vent through one pair of vents up and out the tower. Steamy air from the initial cutting room (iCutter) and future process rooms are also vented up the tower and then make up air comes in from a little lower down. The differential lets the system normally operate passively but when we need it we can turn on a booster that will move the air out of iCutter in about two minutes. That will be good after doing the pre and post operations sanitization – a rather steamy process.
The diagram at the top is some of my notes as I build out the system. The whole thing is in the computer in my digital floor plans but sometimes I like to hand draw another view as I put in pipes and conduit just to visualize it. I use rather archaic drafting software which does not have 3D features but this works well and even if I did I think I would probably end up doing this occasionally. Sometimes paper and pen is just faster and good enough. These notes get date stamped, scanned in and then the final thing gets remeasured and check against my primary schematics to keep a good log for future reference. I also do a lot of labeling of pipes, conduits, wires and such in place so I don't come back in ten years wondering… "What did I do there!?!"
Once the ventilation is done I'll begin hooking up the PEX water supply pipes, water filtration system, pressure pump and then make the final connection to the septic so we can test those systems.
Outdoors: 34°F/29°F 2″ Snow
Tiny Cottage: 65°F/61°F
Daily Spark: Armchair Quarterbacking: The mistaken belief that it is easier done than said.