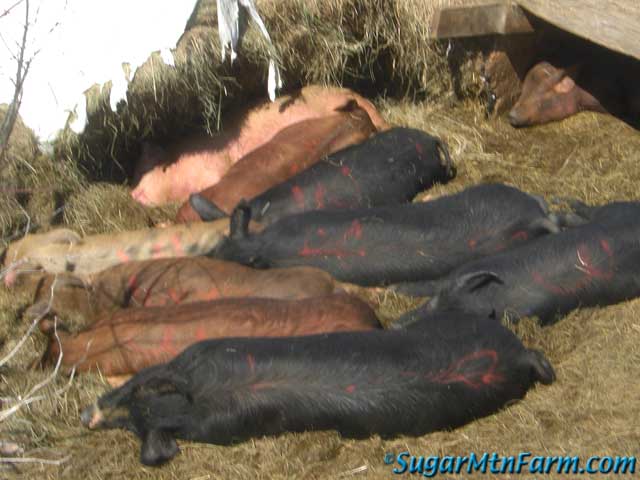 Painted Pigs Snoozing
Today I picked, prodded, painted, probed and pierced pigs. For them this was a special opportunity. All of them are breeders who are shipping to other farms across the country. While getting rectally probed and obtaining an earring might be a momentary indignation it gains them a place in that rarified group of the top few percent who get to go on to be breeder stock. These are the best of the best of their generation. A select few destined to serve but not to be served so soon.
Picked Pigs Awaiting Probing
Yesterday we had selected them from the main herds and sorted the potential applicants onto the strawberry level, one of our winter paddocks. As I sort I paint the pigs with brightly colored red halloween hair spray to mark their status in a temporary manner. The paint wears off after a day or two but that is long enough for me to move through the hundreds of pigs selecting out the few I've been watching over the past nine months to potentially become breeder stock for other farms.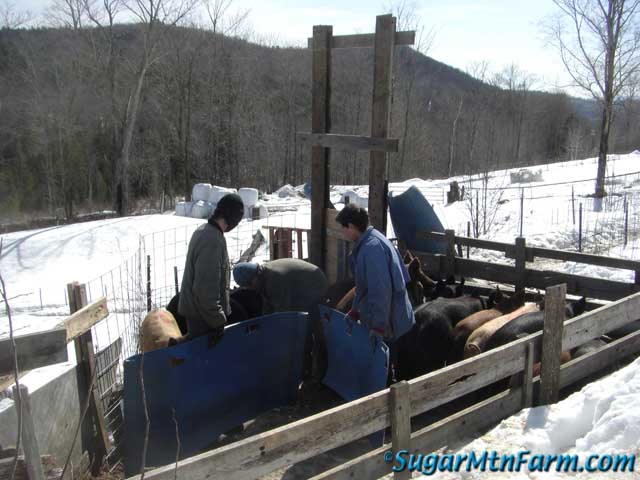 Ben & Walter with Sorting Boards Selecting Prospective Pigs
Once sorted away from the herds these pigs spent the day and night in the holding paddock so I could observe them. There are a few understudies, extras who are hoping to make the cut should the main actors get disqualified for some reason. Thus there are a few more pigs in the group than are shipping.
Ben Boxing while Walter Probes Pigs under Veterinarian Supervision
This morning, bright and early, Ben and I herded the troop of hopefuls into the sorting pen north of the holding area. This is a small area with gates and a chute where I can work with each animal individually. Our family does the animal wrangling for the vet when she comes to inspect. This saves time and we know our animals plus they know us so the process goes smoothly.
Ben Blocking Chute with Sorting Board for Inspection
Each pig gets a visual inspection by the doctor: eyes, hooves, walking, eating, moving around and such. I take a rectal temperature and then if the pig passes it gets the much coveted earring, a USDA interstate shipping tag that allows it to cross the borders to its future farm home. Getting a tag means having a potentially long future as a breeder. We've had sows breed for as long as nine years and boars for as long as eight years. They leave behind hundreds offspring in the case of sows and thousands of direct offspring in the case of the boars. The pigs may not actually know how valuable that little metal clip is and they object for the instant of application. But the punch is fast and the hole heals quickly. Unlike most humans the prized pigs just get one ear piercing.
Walter Tagging Pigs while Ben Blocks and Alison Inspects and Records
All the pigs passed their health certification with flying colors. The veterinarian was very impressed with their health, condition and conformation. Now the picked, painted, probe and pierced pigs are ready to ride south and west to their respective new homes where they'll start new herds based on Sugar Mountain Farm genetics that we've been selecting hard since 2003.
Breed the best of the best and eat the rest.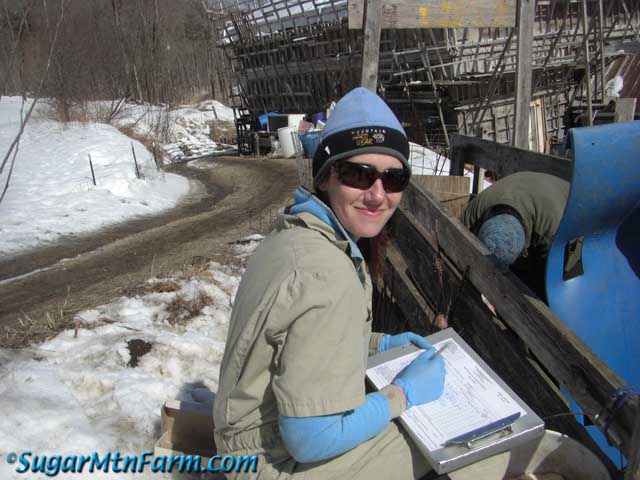 Dr. Alison Cornwall, Mobile Veterinarian†
These two herds are shipping to farms in Virginia and Minnesota. Check out the article from last fall about the previous
Vet Visit
for the herd that shipped out west to Utah.
Some Related Reading:
One Day of Rotational Grazing
How Much Land Per Pig
Pasture Post Pig Grazing
InstaPigs and Animal Units
North Home Field Sow and Piglets
Sugar Mountain Farm Pigs: Feeding and Grazing
Vet Visit Field Tour
Painted Probed & Pierced Pigs
Sorting and Driving Pigs
Outdoors: 42°F/24°F Sunny
Tiny Cottage: 66°F/62°F
Daily Spark: I'm a huge fan of evolution.
†If you need a vet for small ruminants and pigs in northern central Vermont. She has been excellent to work with.