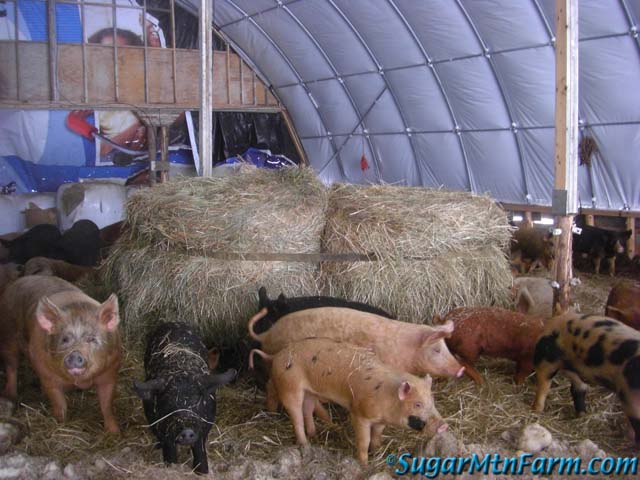 Hay Binder in South Field Greenhouse
I've previously mentioned some tricks like
hay bale orientation
and wrapping bales in wide opening stock panels to control how fast animals break down and use hay bales.
Another trick we've been exploring this winter is simply putting a binding strap around bales. Shown above is a binder on two bales. We've done three bales, which took too binders and one bale too. All ways are options. By holding the bale tightly together it slows the rate at which the animals pull off hay so the bale doesn't fall apart but rather acts as a rick.
The binder straps are the same type we used to cinch down the tarp on the greenhouse. These have hand operated cinches that let one pull them very tight with ease. Each day, adjust them a little tighter.
The one problem we've had is that when the bale finally is used up the strap can drop down into the hay making for a game of "Where's that Strap!" Ben has an idea to use a rope to attach it to a strong support of the greenhouse so one can just follow the rope to the strap buried under the last of the hay.
Outdoors: 30°F/14°F Sunny
Tiny Cottage: 66°F/62°F
Daily Spark: If pigs could vote, the man with the slop bucket would be elected swineherd every time, no matter how much slaughtering he did on the side. -Orson Scott Card