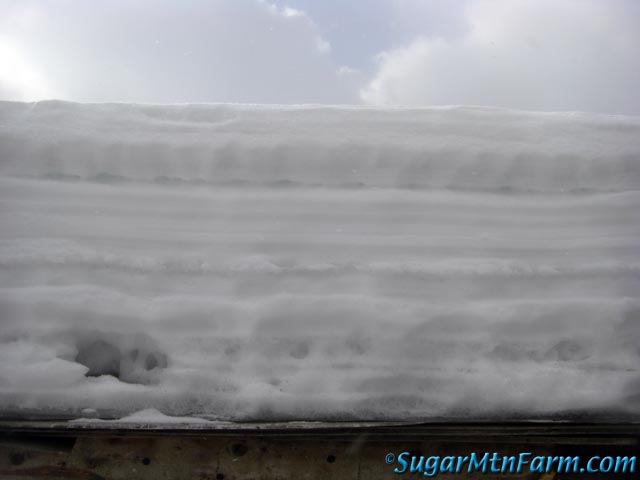 Roof Snow Layers
I had
mentioned
before about how the many feet of snow we get each winter packs down to thin hard layers. The snow on the edge of this roof shows it really well. Part of that effect is the wind scouring and packing the particles of snow together. Part is the bright sun.
This snow pack is hard enough that those of us with big feet like the dogs and humans can easily walk over it but animals with sharp pointy feet, like pigs, sheep and deer, sink in. The result is those point toed critters prefer to stay to their trails and winter paddocks where they have packed the snow even harder and it is easier for them to walk.
Soon the snow will start to melt. Mostly it melts from the bottom up but where we spread ash[1, 2, 3] the sun will help to melt it from the top down and sweeten the soil.
Outdoors: 14°F/1°F Sunny
Tiny Cottage: 65°F/61°F
Daily Spark: "Foiled again!" said the Tin Man.