Master Butcher Coleman Ward
Cole Ward, the master butcher with whom our family apprenticed, is holding another of his great meat cutting weekend workshops. From the brochure:
Learn to break down a heritage whole hog, improve your knife skills, make sausage and other pork delicacies, ask the right questions at the meat counter.


May 15-17, 2015
Workshop Includes:
-All materials and equipment to participate in workshop.
-Sausage to take home and discounts on farm pork.
-Learn to identify different muscle groups and techniques for separating them.
-Alternative cutting techniques and lesser known ways to utilize every portion.
-Candid perspective on the commercial meat industry and grocery store meat department.
-Insights from a master butcher from a 40 year career in the meat cutting business.
Workshop schedule:
Friday
6 PM- check-in Galusha Hill Farm Lodge
7-8:30-Knife skills and equipment overview. Discussion about history of US butchery and meat industry. Ethically sourcing high quality healthy meat.
Saturday
8 AM- Breakfast
9-12 AM- Cole Ward will demonstrate butchering half a hog from start-to-finish
12-1- Lunch, featuring healthy local ingredients
1-4-Participants practice cutting other half hog
5-6- Informal discussions with Cole Ward
6-Pork Dinner feast featuring choice cuts.
Evening- Enjoy the luxurious lodge amenities
Sunday
9-Noon Sausage making and spice blending.
Price For Workshop:
$575/ Single
$950/ Couple or shared room
$275/ Saturday only no bedroom
Please contact:
Jack Palmer
802-584-3061
Jack@GHFLodge.com
---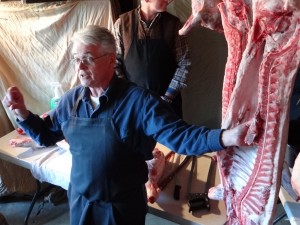 Note that I don't have anything to do with organizing, running or anything else in the workshop so I won't have answers to any questions. Please contact the above resources for more information. I'm just passing the word along. Be sure to spread the word and tell anyone you know who would be interested in this great opportunity!
-Walter
If you're too far away you can still learn from Cole's over 40 years in the trade by getting his DVD series about butchering and his book that gives a deep peek behind the counter of butcher shops from the past decades of experience.
DVD Videos:
The Gourmet Butcher's DVD Video Series
A professionally produced two disk set that covers pork, lamb and beef. Cut along with Cole. Rewind and slooow let you see the details over and over while cutting virtually along side the master.
Book:
The Gourmet Butcher's Guide to Meat
The book includes a CD-ROM with hundreds of additional photos from cutting meat – this is completely separate from the DVD video series. A great resources about the history and industry of butchery plus how-to information in the book with more cutting photos on the CD.
Outdoors: 20°F/6°F Sunny
Tiny Cottage: 63°F/59°F
Daily Spark: Bacon cures much.