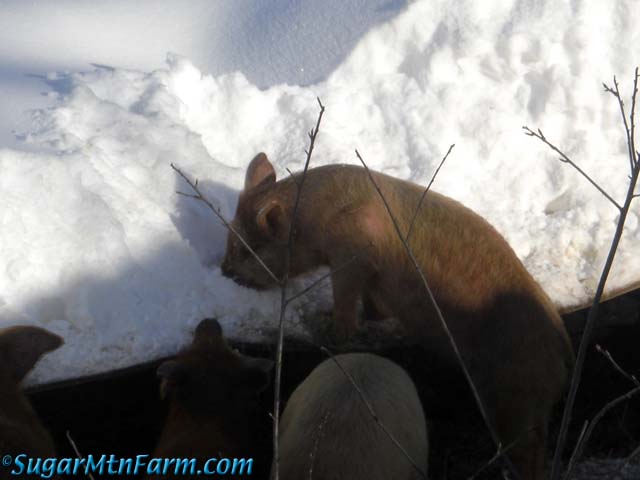 Pigs Eating Snow
When you see livestock eating snow it means you should check your waterers. They can do fine eating snow, as research has shown, however it takes more calories to convert the frozen snow to liquid water in their diet and some animals will grow faster if they have fresh fluid water. It's a choice of how to spend calories.
A Cornel University
study
points out that snow can be a fine source of water for sheep and we have seen this too. Chickens, ducks, geese and pigs also can do well eating snow but all of them do better if they have liquid water. If it happens to be warm water, say over 40°F such as from a spring, they drink even more.
Like us, they enjoy a hot tea. We found in experiments with chickens that they drank more water in the winter if given hot water than cold and then they also laid more eggs in the winter when they had the warm tea tea. This makes me think about how to make thermo-siphoning solar hot water heater for the livestock…
Most of our water is provided by mountain springs, delivered down to the troughs via thousands of feet of 1″ and 2″ black plastic pipe. The water is pretty cold this time of year, flowing continuously which prevents freezing.
We feed whey which naturally has some salt in it. Salt can be a problem for pigs if it gets too high a level in their diet and they get restricted in their water intake. I've measured that with water and whey freely available next to each other that the pigs drink about 3.6 gallons of whey per hundred weight of pig and about 20% more of that in water, about 0.72 gallons. This means a 200 lb finisher pig will drink up to 7.2 gallons of whey and 1.44 gallons of water. A 400 lb sow drinks about 14 gallons of whey and about 3 gallons of water. This gives her plenty of fluid for producing milk for her suckling piglets. That volume seems to be the limit of what they can process for fluids – this is based on averages over large numbers of animals at various weights. What is of particular interest is the ratio of whey to water. It's about 4 to 1. If you were feeding a saltier fluid then this may well change.
Speaking of water, the weather report says we should see 41°F. It wasn't that warm here but late in the afternoon saw some dripping on the icicles and a few wet spots on the driveway where the sun made headway. Mostly though it's still cold dry here. Perhaps they're conditions reporting down in the valley. The difference may be the wind in part. I do think the coldest part of winter has passed although we'll still see some significant snows.
Outdoors: 24°F/-4°F Mostly Sunny
Tiny Cottage: 65°F/61°F
Daily Spark: Focused like a laser is a funny phrase because lasers are not focused, they are parallel.