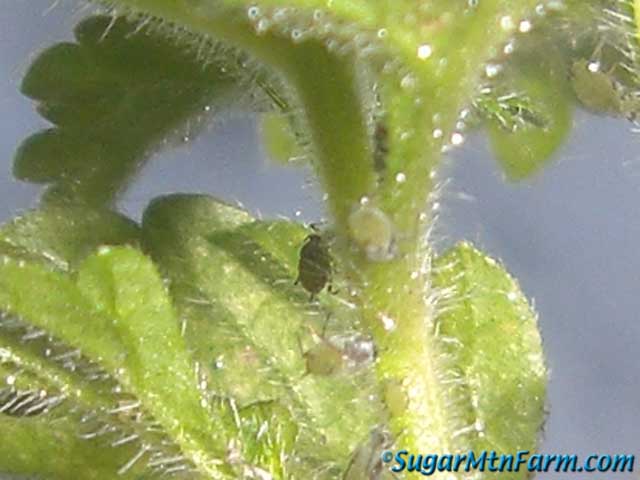 Unsuspecting Aphids – Little Did They Know…
We were given a plant this summer that we are experimenting with keeping alive over the cold season despite our low light winter conditions and cool temperatures. Mysteriously it all of a sudden got aphids recently. I hadn't seen any sign of them and then suddenly there would be many. Aphids are one of those insects that can reproduce asexually so it only takes one invader. I've always wanted to try killing something with CO2. This seemed like the perfect opportunity.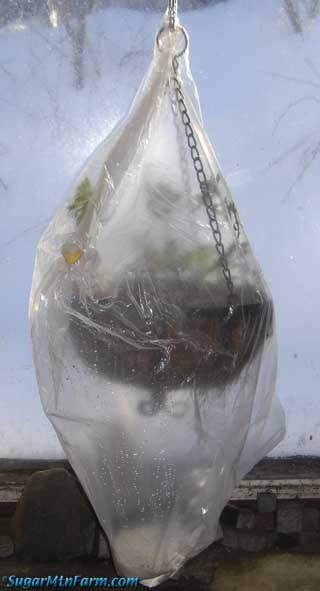 House Plant in CO2 Bag
Specifically I wanted to try killing aphids as I had a bad infestation decades ago in a greenhouse that I had not been able to satisfactorily resolve since I wasn't willing to spray with pesticides. Then for decades I haven't had an infestation so the opportunity for genocide has not presented itself.
Ladybugs do an excellent job but I did not want them crawling in my bed or elsewhere inside the cottage so that option was out. I bagged the plant and placed baking soda in the bottom of the bag. After sealing it up with just a small opening for pouring in we added vinegar. This produces CO2.
The result was the death of many of the aphids. I could see dead bodies floating in the fluid below the hanging plant. After taking off the bag we found very few living aphids. We'll do a rinse and repeat and see if we can kill off the entire population with rising CO2 levels. This may be the organic solution to infestations. Perhaps it could be used on much larger scales.
Outdoors: 14°F/-4°F Partially Sunny
Tiny Cottage: 65°F/60°F
Daily Spark: Did you know that all four of the components used in Monsanto's herbicide Glyphosate a.k.a. RoundUp can be commonly found in most American family homes? Shockingly three of these are used in the manufacturing of high explosives such as C4 while two of them are used in the Dihydrogen Monoxide which kills innocent children every year. One of these compounds was the cause of the terrible Hindenburg disaster. If you care, stop using Phosphorous, Nitrogen, Hydrogen and Oxygen. [Ref: 1, 2, 3, 4]