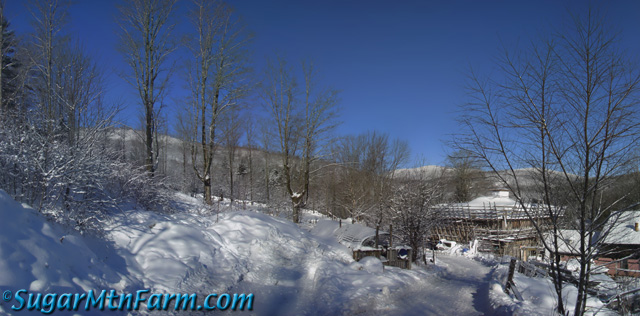 Sugar Mountain Frosted
Click for big picture.
To the left is the peak of Sugar Mountain after a hard wind and snow. Looking straight up the middle of the valley Knox Mountain can be seen through the notch in the distance at the north of our valley.
Dead center is our whey driveway which leads down the mountain from the upper whey tanks, circling around the butcher shop and out to Riddle Pond Road.
Click the photo for a much larger version you can pan around.
Outdoors: 23°F/-4°F Sunny
Tiny Cottage: 64°F/60°F
Daily Spark: Cartoon: two worms hanging on hooks and one says to the other, "I thought they said 'debate team'."