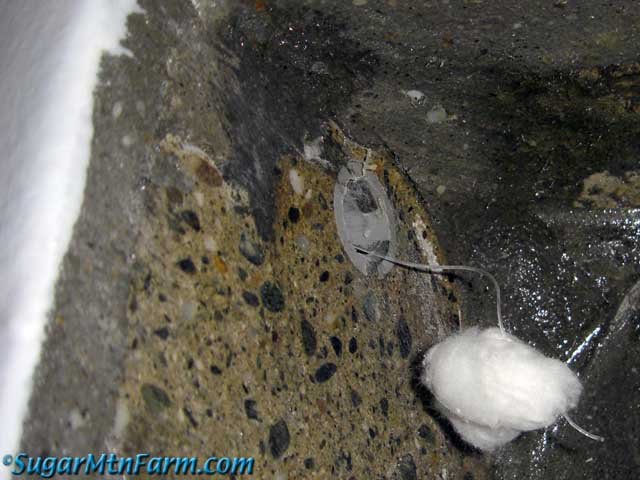 Conduit Mouse
I've been playing with my snake a lot but there have been a few places it has been unwilling to go through the maze of conduits on our butcher shop walls. After much struggle I called on the mouse.
The conduit mouse is a cotton ball attached to a fishing line. I stuck the mouse in the conduit and then Ben used the vacuum to suck on the other end of the convoluted conduit. The mouse vanished from my end and nearly instantly teleported to Ben's end of the conduit. It took seconds to do, including setup, and four minutes for us to stop laughing the first time. It's that easy.
Seriously. I had spent half an hour struggling to get the snake, a long flexible rod of plastic, to go through this particularly nasty piece of conduit. Not only that but it was up in the ceiling of a tall room making life just that much harder. I tried the snake from both directions. No joy. It would go a little over half way from either end and stop.
The mouse did this in seconds. Maybe it was afraid of the snake.
We tied the mouse's tail to the head of the snake and dragged the snake back through the convoluted conduit, after we stopped laughing, and attached the four 12 AWG stranded wires to the snake and pulled the snake back. Presto! Wires fed! Happy conduit!
Life is so easy with the right tools.
Outdoors: 24°F/4°F Sunny
Tiny Cottage: 64°F/60°F
Daily Spark: Just because someone has done something wrong doesn't make it impossible.