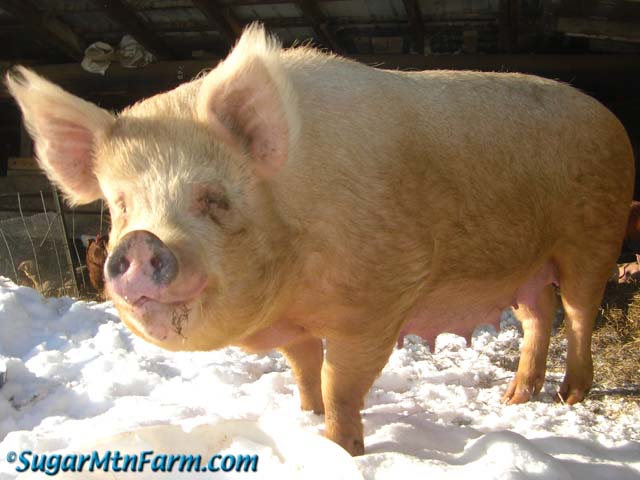 Yorkshire Sow
Charlie has the classic Large White a.k.a.
Yorkshire
pig
form. She's long. She's big. She's great on pasture. She's a wonderful mother. Charlie, along with two other sows, farrowed in the south field greenhouse which is an open shed, not to be confused with the new larger greenhouse we're building this winter. Greenhouses as in lots of light yet still wide open for lots of fresh air.
Charlie has that classic "Pink Pig" conformation that is so commonly associated with pigs. Yorkshires are one of the oldest breeds of pig, originating in
Yorkshire
England
. They are a true
heritage
breed and one of the most successful breeds, having been used as foundation genetics for many other breeds and for modern swine husbandry.
Unbeknownst to most, a breed is not a breed is not a breed. Uniformity varies even within breeds for factors that are not designated as the breed characteristics. Within any breed there are those who have been selected into essentially three lines: Show pigs who get fed and bred to meet the specifications of the show ring; confinement pigs which have been selected for performance in confinement on generally a grain diet that has led to reductions in how well they can digest forages in favor of grain diets; and pastured pigs which are those that still have the original genetics for thriving out on pasture without the need for high calorie grain based feeds. Because of selective pressures of breeding within each of these system of management the lines of genetics within a single breed can diverge significantly such that while a Yorkshire for show may look, to the untrained eye, like a Yorkshire for confinement like a Yorkshire for pasture but each of them will have been specialized for their specific system.
A simple example is that within confinement operations breeders purposefully select away from sows that demonstrate nest building behavior because in confinement conditions this comes out as tail biting, aggression, agitation, bar biting and other destructive behaviors that are undesirable when you have 3,000 sows housed in a big building. As a result these confinement line sows have lost the ability to reproduce without farrowing crates. The sows have lost the ability to build proper nests, to be attentive to their piglets and to not crush piglets. The breeders have created a line of pigs that can not reproduce naturally without unacceptable losses. Take away the farrowing crates and the entire confinement industry is faced with the necessity of changing it's genetics to regain mothering ability, a process that takes years.
Pastured sows farrowing out in the brush retain these mothering behaviors so they build good nests, pay attention when a piglet squawks and avoid crushing their piglets. The piglets themselves also have better survival instincts which help them move away from the sow when she is rearranging the nest and then come back when she's ready. A pastured sow that fails to do good mothering has fewer offspring as a result. She also is more likely to get culled on a pasture based farm for not being a good producer. Conversely, a sow that can produce many offspring without intervention on pasture is going to both be kept to breed another cycle and more likely to have descendants who pass along her mothering ability. We select hard for good mothering without the need for farrowing crates or other interventions. Thus no gestation or farrowing crates are needed for sows with good instinctual mothering behaviors found in the pastured pigs. Behaviors that in a confinement situation create problems are beneficial out on pasture.
Another example of the difference in selection between show, confinement and pasture lines is that a pig which grows fat on a high calorie diet is culled in confinement or the show ring because they want "The Other White Meat" which is lean. That same pig may be able to put on weight on a lean pasture diet maintaining their condition even through winter, farrowing and nursing without commercial pig feeds or high calorie grain feeds. Conversely, the pig who is selected for in confinement to stay lean is unable to thrive on pasture because it can't get enough nutrients from the sparser pasture diet. Each of these three environments, show, confinement and pasture, select for a slightly different pig. Thus the differences in lines.
Selection can be even finer: Because of our cold winters and year round farming schedule we farrow even through the winters. Only the best sows farrow through the winters. We call these winter sows and Charlie is one such sow. She comes from a line of sows, her mother, her grandmother and back for many generations on our farm, all of whom have shown progressively better winter farrowing ability. Charlie farrowed at night in 4°F weather. The south field shed is an open shed. She could have chosen to build her nest back inside the shelter but like almost all of her line she builds it out at the edge where she gets full sun. They are perhaps seeking the drying and sterilizing effects of the ultraviolet as well as the sun's warmth. A dry nest makes for better piglets. Our cold dry winters are actually better than the warmer mud season in this regard. As a result of over a decade of selection we have sows who now farrow well even in cold weather without farrowing crates and without heat lamps. Things that help are her deep bedding pack nest that generate belly heat, the fresh air (don't close them in), a good wind block and plenty of light. Thus why we're building the new larger greenhouse which will be open and airy just like the south field shed but have even more light instead of the mix of bright and dark roofs on the south field shed.
On the other hand, Three years ago we got some new genetics and I've been having to weed them. Those sows lack the ability to farrow well in winter. They produce smaller litters. I term them summer sows. We're now into our third generation of those genetics and I'm gradually improving them, they're our Tamworths, but they still have a long ways to go before they catch up with our other breeds and cross lines who both thrive through the winters and farrow excellent litters through even in our coldest weather.
So why do I have the Tamworth line? Teats. Within that line I found genes for extra teats and I've been able to rapidly raise their count from 16 to 18 teats, even 18 teats on a boar and that matters because how many teats he has is an indicator of how many teats his daughters will have. More teats means more milk and more spaces at the milk bar. This is an example of a line within the breed (Tamworths) which had something a little different about them. Gradually I'll shift those genes over into our other cross lines. It's a process that takes years, even decades.
Of course, genetics isn't everything. There's more than just good genes for instincts and form. In addition to the genetic specialization that comes with selective breeding pressures there is also a learned aspect. Piglets who grow up on pasture learn to eat pasture at the snout of their sow. Piglets from show or confinement when dumped on pasture may have no idea what to do with all that green, which forages are good to eat and which should be avoided.
Selective pressure is a powerful force. If you took a population and forbid explicit graphic representations depiction certain forms of art hundreds of generations you might actually cause a change of genetics, a fundamental alteration of the brains of long standing members of that group which would result in the loss appreciation and sense of humor related to these types of illustrations. Individuals within this group might have a great deal of difficulty understanding that other cultures highly value cartoons. Selective breeding is a very interesting tool whether in the hands of man or Mother Nature. Evolution works, intentionally and sometimes not so intentionally. Be very careful what you inadvertently select for while aiming for your goals.
Breed provides an overall conformation – e.g., Large White pig with a long body and upright ears – but the line of the pig can be even more important when considering what to raise on pasture. Pasture has a specific set of conditions which are different than CAFOs, confinement animal feeding operations, so it takes good genetics to produce good pastured pork.
Also see:
Lard vs Bacon Pigs
Pig Page
Four Sows and Pigs
Outdoors: 7°F/-12°F Sunny
Tiny Cottage: 64°F/58°F
Daily Spark: I have a firm rule: never diss someone's choice of religion or breed.