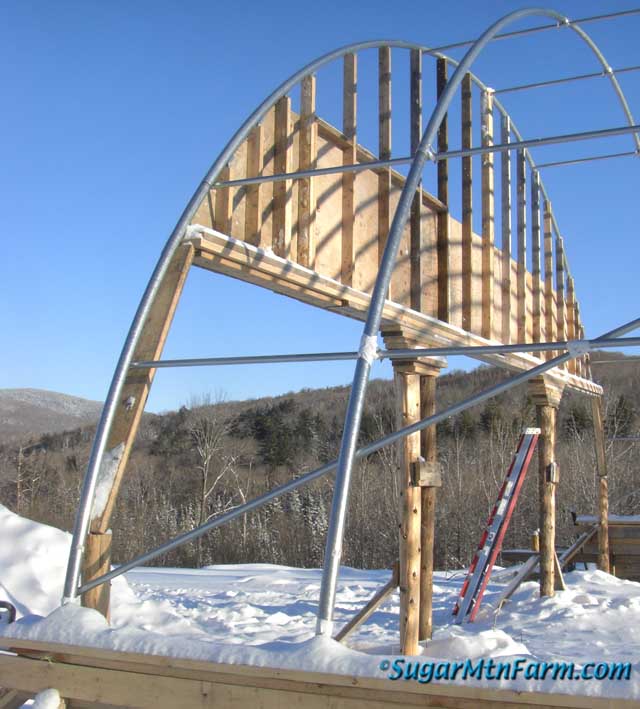 Greenhouse North End Wall
After we got done putting up the ribs the whole
greenhouse structure
was a bit on the wibbly side. Grab one end, shake and it felt like giant slinky. With the addition of the end walls and extra diagonals the structure is much more rigid.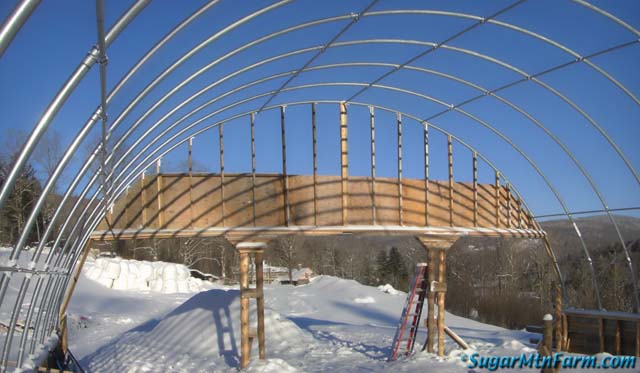 Greenhouse North End Wall Shadow Patterns
The north end wall will be mostly closed to block out the cold north winds of winter. During the warm seasons we'll open that up for cross drafts when growing plants in the warmer space created by the greenhouse.
Greenhouse Impersonating Moby Dick on Beach
A sub-goal with the greenhouse is that it will offer us an extended growing season when the pigs are not using it for farrowing during the winter months. We'll be able to start seedlings for transplanting as well as growing somethings in there that would like a bit more heat and longer growing season than we reliably get here on Sugar Mountain.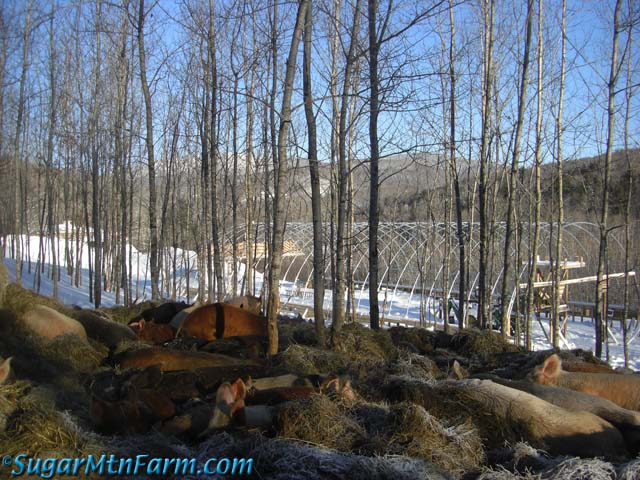 South Herd Sleeping in Nest, Unknowingly Awaiting Greenhouse
We are located in a
USDA Zone 3b
area where the "Average Annual Extreme Minimum Temperature" gets down to -35°F to -30°F. We had a taste of that the other day when it dropped to -34°F. The deep pack bedding and wind block of terrain, trees and bales keeps the pigs warm. With this cold we've been having challenges with engines starting as it has been not quite that cold each successive night but too close for the comfort of machinery. We and the animals handle the cold better than machinery. The dogs positively love it with their deep triple thick fur coats.
Outdoors: 4°F/-22°F Sunny
Tiny Cottage: 64°F/57°F
Daily Spark: Now we return to abnormal.