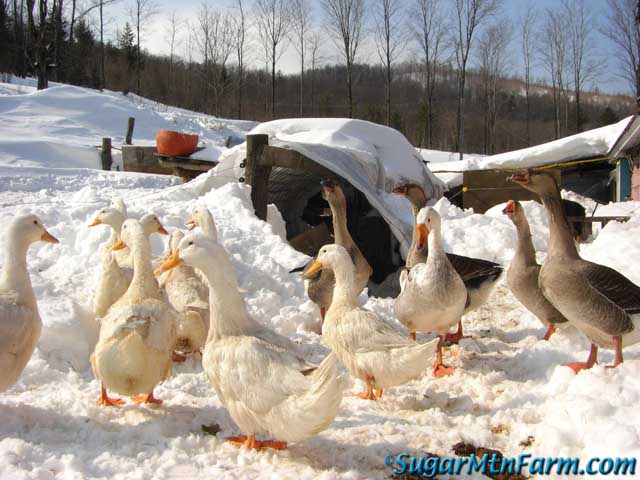 Ducks and Geese Enjoying Winter Sun
I spoke with a nice gentleman down in Georgia who was concerned about ducks he was seeing outside his apartment because it was down to the single digits (let's assume 5°F) last night.
†
Now, if you're a naked ape, like he and I, and used to temperatures in the 50's to 90's, like someone from Georgia, then the single digits are freaking cold! That is a freezer in fact since the recommended temperature for storing meat is 15°F or below. Yet, to a duck that's balmy.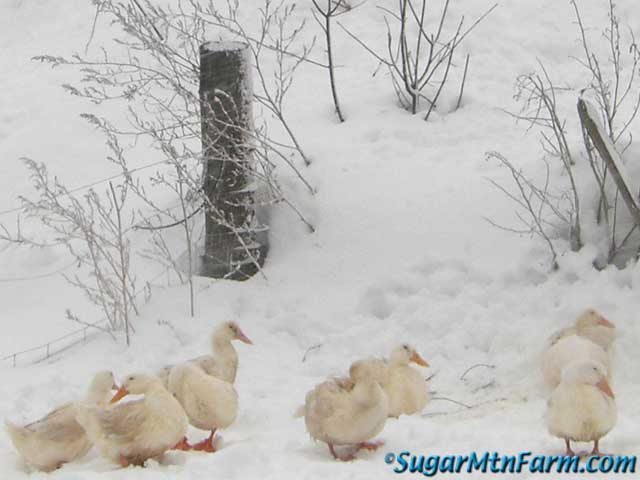 Ducks Choosing to be Out in Snow Storm and Blowing Winds
They have a shelter with nice dry hay a few feet away should they want it, but they don't.
Realize though that measure is the air temperature. The ground and water temperatures in Georgia even during a deep cold snap are probably more like a warm (to a duck) 50°F since it is Georgia so the ducks are doubtlessly delighted with their temperate pond or sitting on the relatively warm ground after having migrated south from somewhere like Vermont.
Rather than being thin skinned humans like us the ducks have thick downy feathers that keep them warm even through our deeply cold winters up here in Vermont. This is why we Vermonters wear layers, and layers, and layers…
Kita Practicing Organizing Ducks and Goose
While I've never lived in the deep south, I can't take the heat, I can well imagine that someone who is acclimated to the temperatures of Georgia would be quite concerned about the ducks when the air temperatures drop to the single digits. To the human's skin that feels very cold but to the ducks they're just fine in their winter jackets and high metabolism. They even have special circulation for keeping their feet warm.
He asked about feeding them and that is fine with me, probably quite fine with the ducks. Local authorities sometimes don't like that but long time readers know I advice walking on the grass…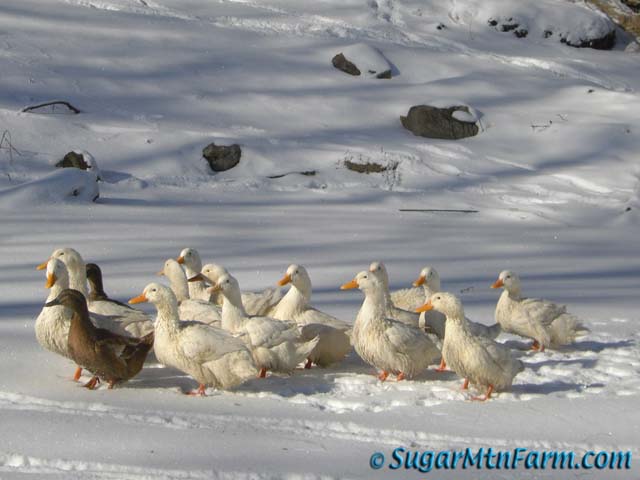 Ducks Enjoying Lower Pond in Winter
So what is the lesson here? Our empathy doesn't always work. Rather sometimes really what we're doing is projectionism – that is to say we put our own feelings on others rather than actually understanding what they are feeling. This is a way of modeling the world and has it's function but should not be over used. What feels cold to humans acclimated to warmer temperatures is quite comfortable to other animals, and even to humans like our family that live at lower temperatures. On the flip side, the heat of Georgia or Texas would feel very hot to northern ducks and me but may be fine to someone acclimated to that climate – thus why so many birds migrate north for the summer. Contrary to the
funny poster
: Just because you're cold doesn't mean you need to let them in.
†Outdoors: 4°F/-34°F Sunny to some clouds later in the day
Tiny Cottage: 65°F/57°F
Daily Spark: Void where prohibited. Walk on the grass, barefoot. Watch out for turds.