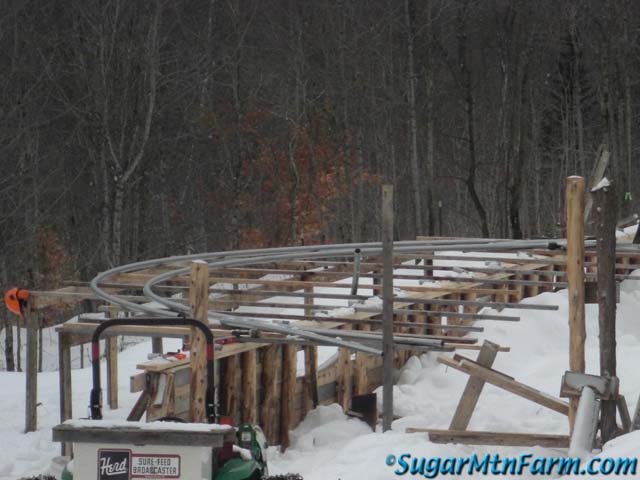 Rib Assembly Table
Above is the temporary 40'x16′ table Will and Ben built for assembling the ribs of our greenhouse. There are 25 ribs each made of five sections of 2.375″ diameter heavy gauge galvanized pipe that slip together with swag fittings to make 50′ long ribs that we then lift into place onto the
feet
on the
cedar wood foundation
we built earlier.
Assembling the ribs for the greenhouse has been, er, challenging. We finally figured out the problems. That's plural.
The swag's, the crimped areas at the end of the pipes were irregular and oval rather than round;
The swag's varied in size pipe to pipe;
The top pipe had a very slight 1/64th of an inch difference in inside diameter (I.D.) than the other pipes; (Top pipe end shown above)
The top pipe had a thick welding bead that took up some of the remaining space;(11 o'clock position in above photo)
The top pipe had been cut but not deburred so the edges of the interiors were further reduced in diameter; (2 o'clock, 3 o'clock and 4 o'clock positions in the photo above) and
It's feakin' cold out!
The cold might be a small factor in that it would cause the pipe to contract a little but that is minor compared with the other issues. A bit of time with calipers to check a variety of pipes revealed the other problems.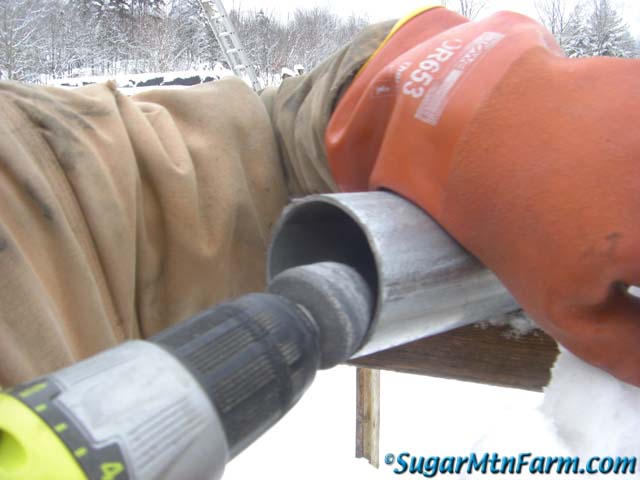 Fixing Pipe
Once we figured out all of the problems the solution was quite simple, we used a grinding stone to remove 10 cm of the excessive welding bead, debur the pipe end and bevel the last couple of millimeters. Heating the pipe wasn't necessary although this probably all would be easier in July. But where's the challenge in building during the easy season?!?
Fixed Pipe
Once the pipe was fixed the swaged section of the next portion of the pipe fit in, tightly, into the top section. Hallelujah!
It had taken us three days to get the first couple of ribs done. It took 12 minutes each after that. A vast improvement in construction speed. There was much rejoicing and dancing.
Outdoors: 33°F/29°F 2″ Snow
Tiny Cottage: 65°F/61°F
Daily Spark: Does a program fault if there is an error but nobody reads it?