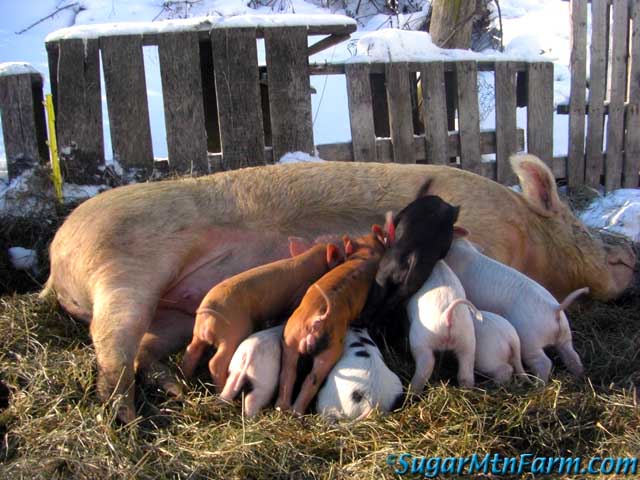 Winter Piglets with Pretty Girl Sow
These are not all her piglets and some of her piglets are on other sows. Rather some of the 23 piglets belonging to three sows in the lower garden which is one of our winter paddocks. Piglets shift around between the mothers who share raising and nursing duties. The milk bar is always open.
Almost a month ago we moved Spitz and these sows down to the oldest garden from the north field. Being a small group of sows this gives them some privacy for their farrowing, away from the larger herd. The ladies have commandeered the open shed, moving hay in to build a large communal nest and kicked him out. He sleeps in a nest he built just outside their quarters.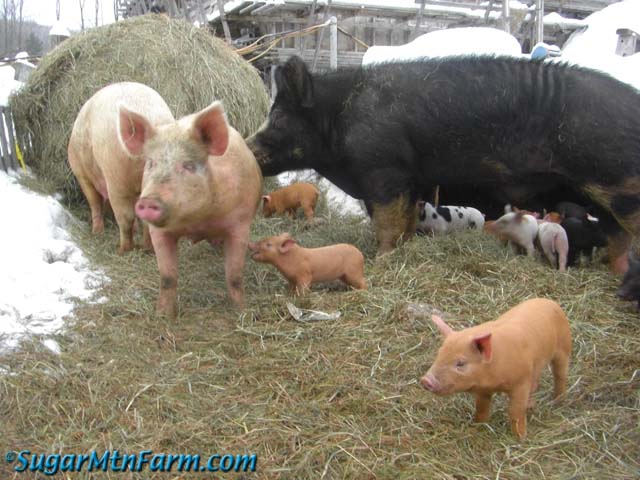 Sows, Spitz & Piglets
The sows share the space with Spitz, our big Berkshire boar who is the sire of these piglets. I've often had people ask about the safety of piglets and boars. The reality is I've never had a piglet harm a boar, nor the other way around either for that matter. The boars are very gentle with the piglets even though the piglets walk all over them, literally.
Consider that it would be an evolutionary disadvantage for the boars to hurt piglets for that would reduce the spreading of their genes. Besides, if they did harm the piglets, I would eat the boar. On the farm, the farmer is the Mother Nature's ultimate evolutionary force. It behooves the farmer to be very, very selective about who stays to breed, particularly with boars who spread their genes out over 15 to 20 sows every couple of months and potentially sire many thousands of offspring in their lifetime. Every week some pigs go to market. We breed the best of the best and eat the rest. It's a simple and effective rule that results in the gradual improvement of the herd genetics. Mother Nature and Father Darwin would approve.
Outdoors: 33°F/29°F Overcast
Tiny Cottage: 65°F/61°F
Daily Spark: We certainly can't fight about facts so opinions are all that is left to argue.