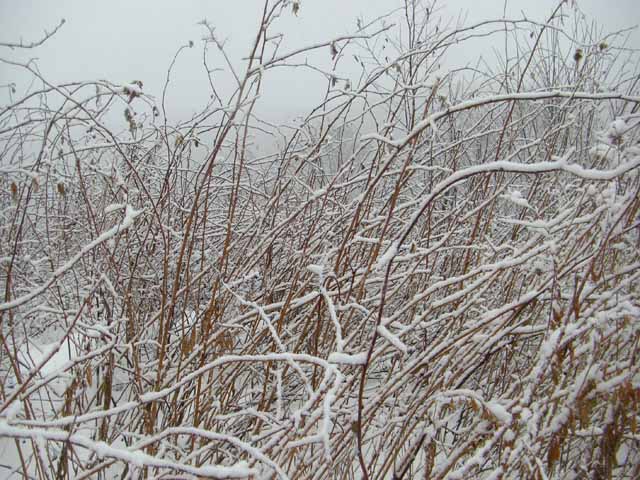 Raspberry Canes Under Snow
We've been having a lot of power outages which surprised me because the weather had seemed rather mild, not particularly high wind or heavy snows.


Our Valley – Minimal Tree Snow Load Click for the Big Picture
Our mountain valley tends to be colder but more steady than most of the surrounding area. This is a matter of altitude, geography and prevailing winds. The extreme cold air drains down and out of our valley so we don't get the worst of it but we lose about a month of growing season in the spring. This also means that we tend to get snow rather than rain when things get iced up to the west of us over Orange heights were our land ends at the top of the mountains.

West Topsham Lower Down our Valley – Minimal Tree Snow Load Click for the Big Picture
Further down our valley opposite Red's house the trees were also clear of snow for the most part.

Waite River Valley – Minimal Tree Snow Load Too Click for the Big Picture
Down at the post office looking south the snow load on trees appears minimal. Our land lies at the peak of the mountains and it appears that east of us is fine while to the west was over loaded.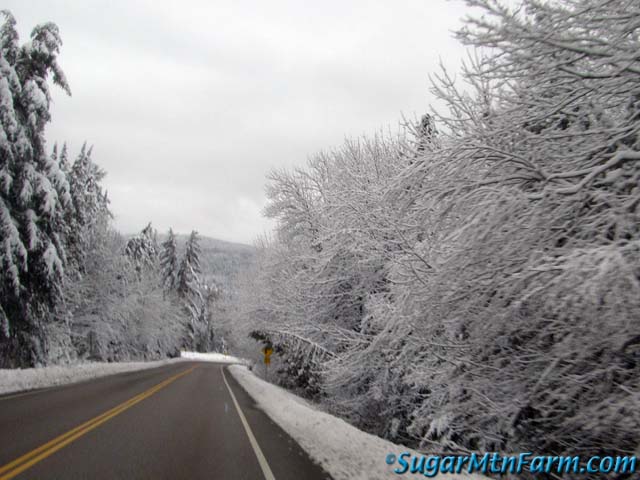 Trees Bending Down on Dead Man's Curve
On the other side of the mountains, the down slope into Barre to the west of us, they often will get rain or sleet while we're getting snow. Apparently this happened with the recent snow storm such that the trees in towns to the west became iced and were sticky when the fluffy snow fell right after that and subsequently stuck to the trees bending them down and crushing many to the ground.
Another factor might be wind during the storm. Perhaps our trees got shaken more during the time the snow was falling such that less snow stuck to the trees thus leaving less snow load on after the storm.
These crushed trees took out hundreds of power lines for our small utility Washington Electric Coop resulting in many thousands of people losing power. So although we weren't seeing much in the way of downed trees on our land the blackouts have been rolling through since we're at the extreme end of the power line. Hopefully everyone will have power back soon and the utility work crews will be able to come in from the cold.
And that's the road report.
Happy 12-13-14!
Outdoors: 28°F/24°F 1″ Snow, Overcast
Tiny Cottage: 64°F/60°F
Daily Spark: People who stop halfway across never get to the other side.