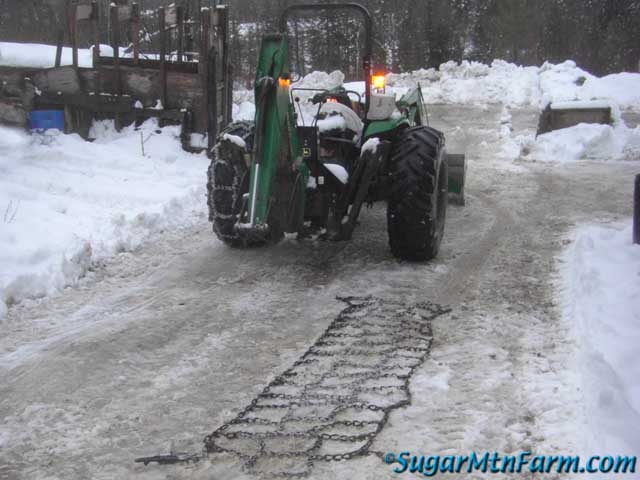 Tractor Chain on Ground
We got a bit of snow last night accompanied by two power outages as Mother Nature cleared the dead wood from the forests. While plowing today all of a sudden Will came up to me urgently pointing at the tractor. From my vantage point I didn't see anything wrong at first.
Then I peeked over the edge of the tractor and saw that the ice chain on his side had come almost completely off! Yikes!
I was in the road at that moment so I eased gently forward incase anyone came by and needed to pass. Will and I got all the clips and binders undone dropping the chain to the ground. I backed off of the pile of links and then Will hooked the chain to the bucket so I could pull it up our driveway to a safe place to put it back on.
The chains are very heavy so the easiest way to put them on is to spread them out like this on the ground and then back the naked wheel up over the chain until the tractor is parked in the middle. One then lifts the ends, only about a third of the weight at a time, up to the top of the tractor wheel and binds them back on. That last bit is a tad tricky. Easier with two people.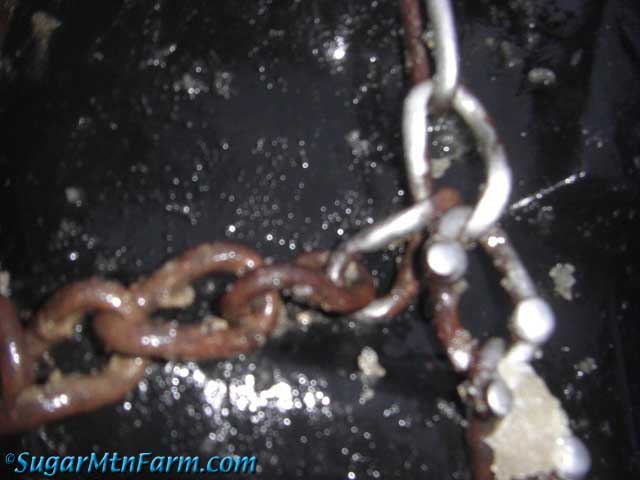 Chain Wear
While doing this we also repaired a link that had come off and I examined the wear on the chain. It is pretty dramatic. The thin links on the right used to be thicker than the dark links on the left. Soon they'll break through. These studded ice chains are thirteen and a half years old. I figure I have another two years on these chains before I'll start seeing lots of broken links. We've already replaced a few with binders.
We use the chains year round which is well worth the extra wear because the $800 chains protect the far more expensive rubber tires of the tractor from the sharp rocks on our land much like a bulldozer riding on its tread. With the chains we have great traction on ice, snow, gravel and stone. The chains are hard enough to leave marks in some stone. The only problem is in extremely cold weather ice becomes so hard that the studs won't bite in – then I skate over the ice like a graceful elephant.
Outdoors: 30°F/20°F 8″ Snow
Tiny Cottage: 65°F/59°F
Daily Spark: Pigs flow like water.