Calendar Photo: Jeffries Family Photo in Butcher Shop
We are almost done with construction such that soon we'll be able to begin cutting our pigs here in our own on-farm
butcher shop
. This week we got in our uniforms which meant it was family photo time – a picture for our annual
calendar
!
I got an extra set of cloths so we're complete with one for Hope as well although she's too young to actually officially cut meat by law. Not that she isn't perfectly capable. She's been watching Cole Ward, the master butcher who we apprenticed with, do it for years and probably has his instructional
videos
memorized. She's a whiz with a knife!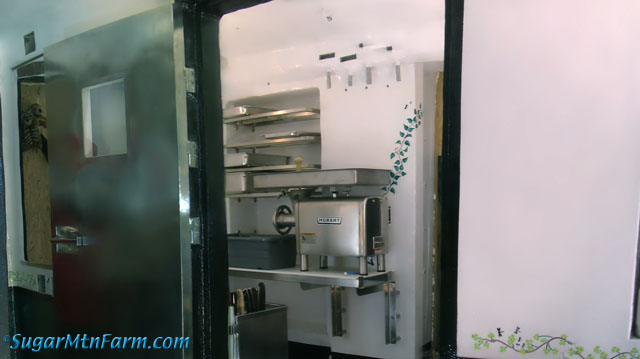 View without Folks – Click image for Big View
Here's the view looking into the room without the people in the way. Sometime soon I'll do a panorama inside the initial cutting room to show all the details. It's a tight space to take photos – the above is a composite of nine images.
The Hobart 4822FS Meat Chopper (a.k.a. meat grinder and sausage stuffer) normally goes on another table with a steel top. I had it on the high packing counter for the photo so it would be, somewhat, visible. Not seen are the MiniPack America MVS 45X Vacuum Packager and Hobart 6614 Meat Saw. You can see is the great stainless steel knife and saw sanitizer that Will built. It is double walled and insulated so we don't burn ourselves by bumping up against the exterior of the 180°F water tank.
You might notice there is nothing extending down to the floor. We hung everything off of the walls for ease of sanitation. The hangers are, according to my calculations, strong enough to support our tractor. Built pig tough. One of the things I noticed while studying other butcher shops and commercial kitchens that dirty spots were at the base of table legs where they touched the floor. Eliminating the floor contact solved that problem. The wall junctions are coved with standoffs for easy cleaning and all the equipment is stainless steel with either stainless steel tables for the equipment or replaceable nylon for the cutting surfaces. The walls are all seven coats of polyurea on polyurethane on concrete, again for easy sanitization.
At this point all the polyurea painting is done. I have a little electrical to finish, some small plumbing items like hooking up the toilet, shower and sink and the ventilation duct plus a few other small items. Then it is on to the HACCP plan so we can apply for our license to cut meat and begin fulfilling pre-buys in the new year.
Very exciting!
---
2015 Calendars are on order and should be getting here in about two weeks. Two blog readers have already won calendars in the "Name That Sow" and "Dog Spotting" contests with winners. David Lloyd Sutton, Ian Petrie and Sal are the winners there. If you would like to order a Sugar Mountain Farm calendar, or few, send $10 per calendar plus $4 for shipping in the United States or $7 for shipping internationally per package (e.g., one or more calendars).
or send a check to:
2015 SMF Calendar
Sugar Mountain Farm
252 Riddle Pond Road
West Topsham, VT 05086
The normal price is $16 but when I order a large number at the end of the year I get a quantity discount. I've already done this year's order with a few extras for those who are interested. The $10 price is good while supplies last from this order.
Outdoors: 34°F/24°F Partially Sunny
Tiny Cottage: 64°F/61°F
Daily Spark: Blind Man Driving – Sign on the back of an installer of window shades.