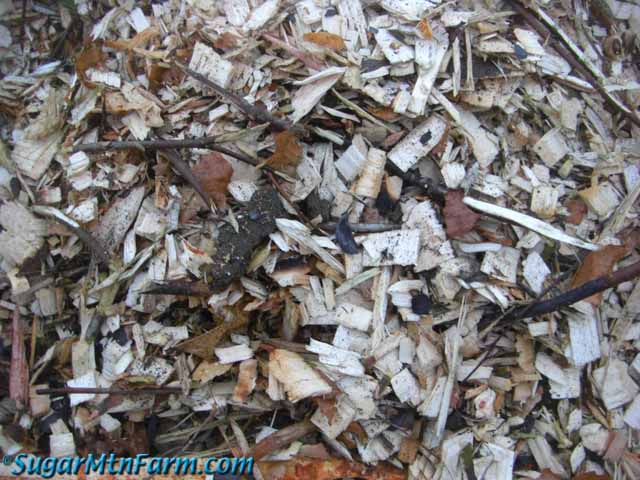 Wood Chips
What this photo does not show is 84 tons of wood chips on fire. It doesn't show 280 cubic-yards of wood chips on fire along with our greenhouse foundation of about 120 cedar logs burning plus the lumber for the sides because Ben and Will caught the fire and put it out.
Wood Chip Truck
What happened was that around mid-day we got our seventh and last load of wood chips. The trucker uses the exhaust from the engine to heat the body of the dump truck so the wood chips won't freeze in to the truck on the trip over. Something went wrong with the heating system on the way from the logging site to our farm such that the chips at the front of the dump body heated up too much. Most likely they were charring in the truck at low oxygen levels. Then when the chips were dumped the action of falling out of the truck added fuel (O
2
) to the fuel (wood chips) to create foot high flames.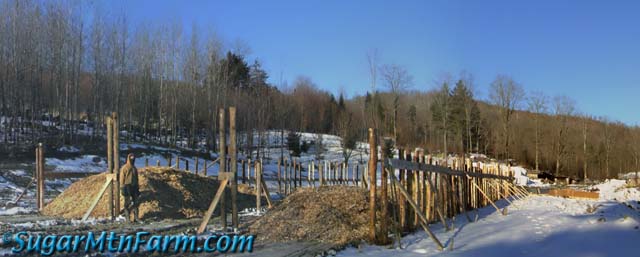 Greenhouse Foundation with Non-burning Wood Chips
Except the fire hadn't started immediately and was burning slowly, but worrisomely, when our sons discovered it while hauling lumber out to the greenhouse construction site. They found the foot high flames at the north end of the pile about three o'clock. Fortunately since it was the last chips out of the truck they were away from the rest of of the already flattened piles of chips and Will was able to quickly put out the fire using the tractor.
When Ben came in to tell me of their adventure I could smell it ahead of him as his cloths smelled of the burning fresh wood. He started by telling me:
"All's well that ends well."
Then he told me the rest.
Outdoors: 30°F/20°F Sunny
Tiny Cottage: 67°F/60°F
Daily Spark: Scale matters. On the local family pack basis communism (ultra cooperation) is the best solution. As you move outward in social groups the best evolutionary strategy shifts to socialism and at the most extreme end of the social structure capitalism becomes the best strategy. Neither liberals or conservatives will find this politically correct to their liking but it is real.