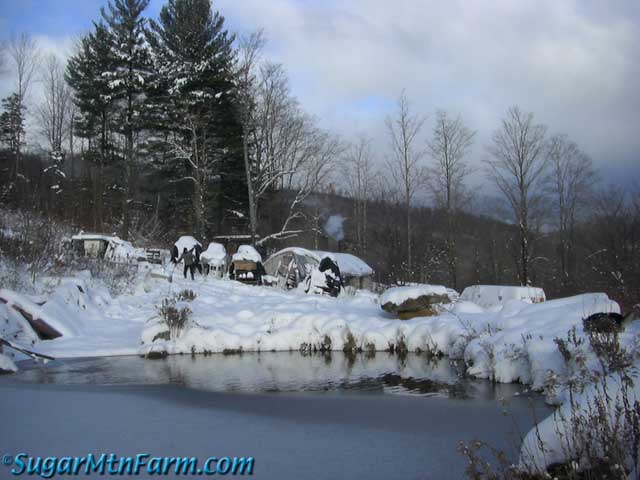 Upper Pond & Cottage
As noted
yesterday
, winter arrived at 1:03 pm on Wednesday. Punctually on schedule. This morning we woke up to about 10″ of snow. The world has changed from grey November to white winter just in time for Thanksgiving.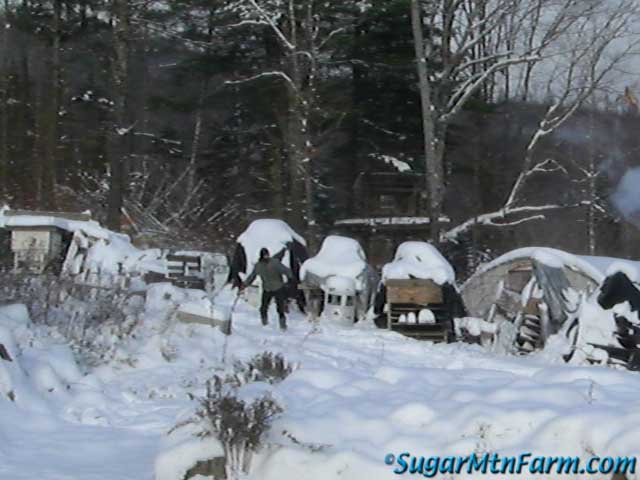 Ben Snowboarding Down Driveway
If you look closely in the top picture you can see Ben, enlarged here, zooming down the driveway on his snowboard. I purposefully plowed late to give people time to enjoy snowboarding and sledding on our long winding drive while the snow was at its peak freshness. The milk truck had delivered yesterday, before the storm, so there was no rush to clear away the newly fallen snow.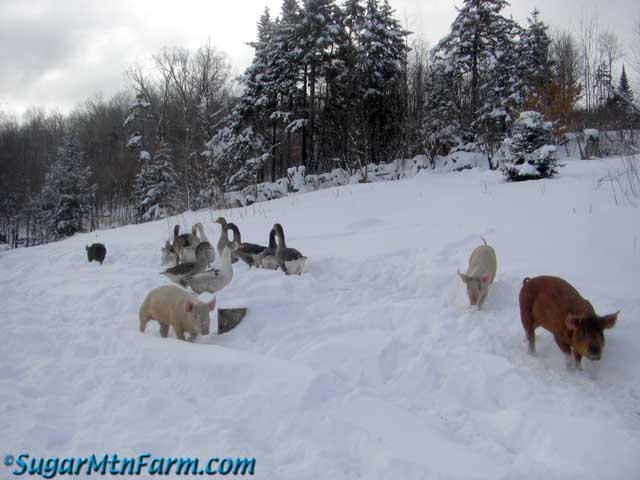 Geese and Pigs
Out in the south field the ducks and geese appeared to be bathing in the new snow. The pigs had already made trails from their bedding areas in the southern copses to whey and water stations.
Greenhouse Foundation Rising
This weekend we'll probably chop all the posts off even along the shoulder boards so we can put on the header.
The lumber for building the greenhouse is recycled from the scaffolding and form work of building the butcher shop much of which came from building the south field shed forms pieces of which came from building our cottage in 2006 some of which came from the old hay shed that was put up here in the 1950's that was moved from some other site from the 1800's. Reuse, reuse, reuse.
The metal frame of the greenhouse arrives Monday. Now that we are up above the frozen ground winter can set in hard and we'll be able to keep working without worrying about drilling posts in through hard ground.
Outdoors: 35°F/27°F Partially Sunny, 4.5″ Snow
Tiny Cottage: 64°F/60°F
Daily Spark: I'm a big fan of DNA and evolution.