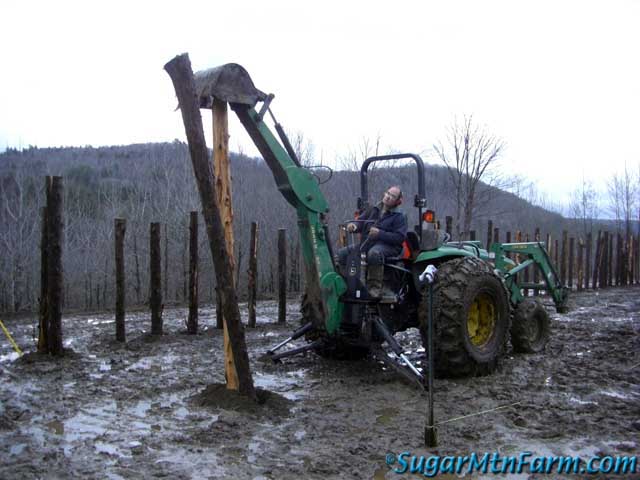 Driving Posts with Backhoe
Yesterday it was 56°F. Summer time temperatures. Sunny. Balmy. Today was a little cooler. Fall arrived about mid-day. At 1:03 PM winter arrived as I started walking in from the field for lunch. We got several inches of snow by the time I got to the
cottage
. Winter was here. Summer had ended. Right on time. Just after we finished up the last of our
'Get-Ready-For-Winter'
projects. I like a punctual season.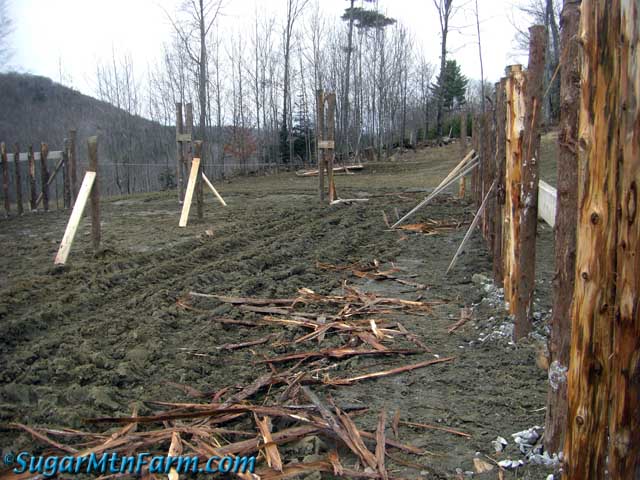 Peeling Bark from Cedar Posts
Actually, usually I find scheduling very difficult. It is hard to know when the future will arrive. All I know is that it's coming so I get ready for it as fast as I can. Usually the future is not so obliging as to arrive on my schedule. Today we got lucky.
We've been watching this storm roll up over the horizon for the last five days, rushing to get everything ready for the cold season. My 'Want-To-Get-Done-For-Winter' list has gotten pruned and pared as the hours passed, shaving off anything that could wait until after snow falls and the ground freezes. That list became the 'What-We-Can-Get-Done-Before-Winter-Stops-Us' list, as it always does about this time of year. That is the list we complete. We came down to the end of that list just as the snow started falling. That's timing, and recognition of the reality of what is possible, what we can actually get done. Anything more at ground level will wait until next year.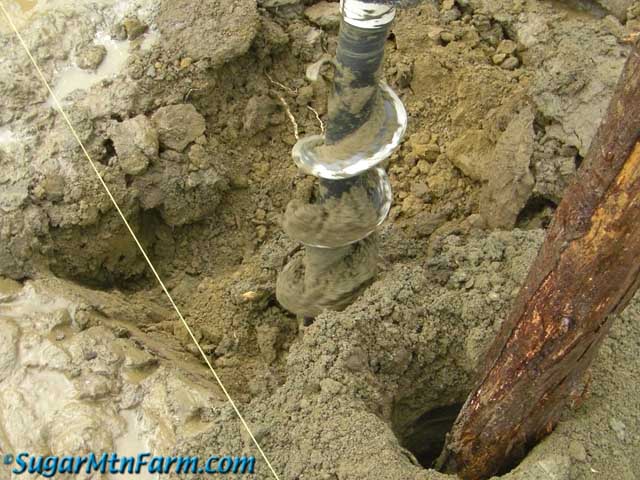 Drilling Post Holes for the Greenhouse Foundation
I feel very lucky. Not only did the weather cooperate with our plans but we managed to drill 151 holes in Vermont mountain soil with only hitting ten big rocks that slowed us down, breaking one shear pin and losing one tooth from the auger. In our stony mountain soil that is remarkable!
A big rock means either using the backhoe to dig it out – messy like the one above, shifting the hole a few feet or just abandoning the hole so that it becomes a compression post – after all there's a nice rock foundation there for our greenhouse. I designed the greenhouse foundation with two foot spacing for the support posts so that structurally it will be okay that we had to skip a few holes. My designs are perfect but the real world is rarely so fine so I try to leave a manageable tolerance to allow for where pencil meets planet.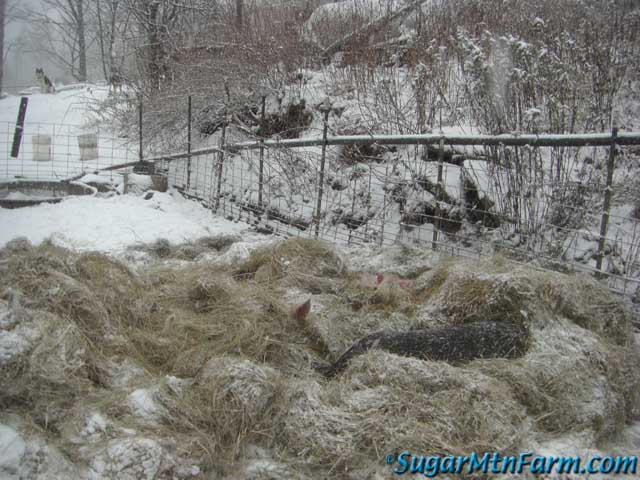 Snow on Pigs
By the time I got back to the home field, just a few minutes walk, we were getting heavy snow. There are 51 suckling piglets and their five sows bedded down in the hay in the picture above. They'll be warm and cozy through the storm. They have a hut, also filled with hay, but prefer sleeping on this bale which they've spread out and fluffed up. I'm all for free choice where ever possible.
Contest: Can you spot the livestock guardian herding dogs? How many do you see? Bonus points if you know their names. Leave answers in comments – a free 2015 Sugar Mountain Farm calendar for some lucky reader I'll choose at random from today's comments.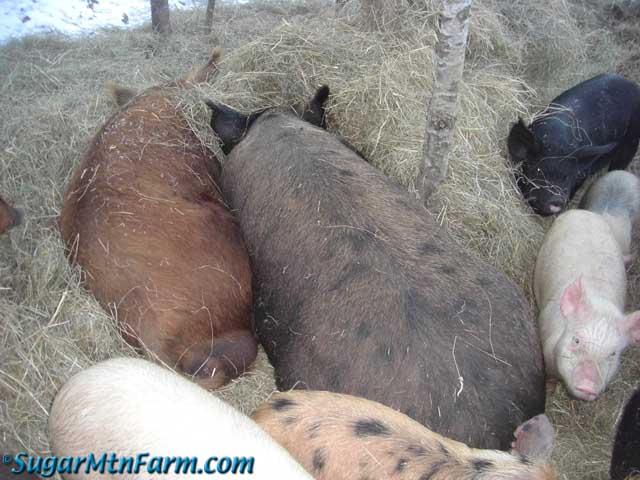 Spitzon and Tamboar on Sleeping Terms in South Field
While I checked pigs and the snow fell, Will and Ben put out hay to animals in the south field
copse
,
strawberry level
and Spitz's
winter garden paddock
. Everyone settled down for the coming blow.
Back at the cottage I lit a fire to dry cloths and we snuggled in to wait out the first significant snows of winter.
Outdoors: 34°F/25°F Partially Sunny Summer Weather, 6″ Snow in Afternoon
Tiny Cottage: 63°F/60°F
Daily Spark: Great things happen with a plan and not quite enough time. -Anon