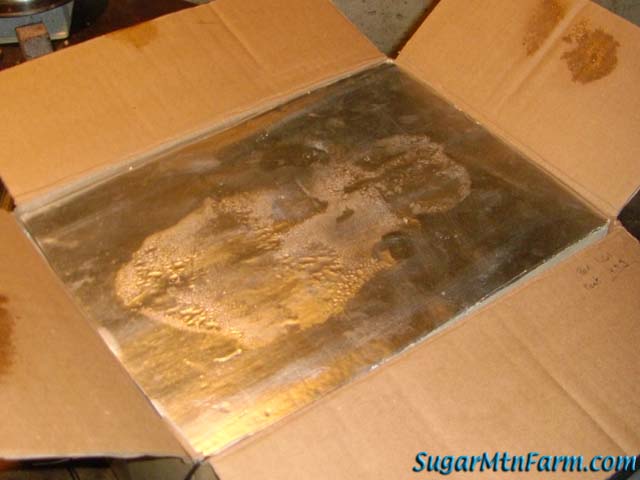 Condensation on Insulation
As we get ready to open the butcher shop we have been doing testing for shipping CSA Pre-Buys and Kickstarter meat packages to all the people who pre-bought to help with the funding of building the butcher shop.
I've done packaging tests with varying levels of insulation, insulation types, reflective foil, dry ice, etc. What this picture shows is condensation that occurred on the outside of the insulation due to the super cold temperatures of the
dry ice
(-109°F). By the time the temperature gradient gets to the outside of the box it is no longer that cold, by far, but it is cool enough to condense water out of the air. This doesn't do any harm on the outside of the box but it is interesting. The pattern of condensation shows the pattern of the temperature. Notice that towards the edges there is no condensation due to the vertical insulation there.
The reason the condensation appeared was I did this test with the cardboard box flaps open. With them closed there is enough extra insulation that I don't tend to see this although I imagine in very humid conditions it could occur.
---
Today we finished painting the last of the trim in the butcher shop in the inspector's office. Now it will cure for several days so that we can move equipment and populate the rooms. This seals all the concrete so that the concrete is protected and it will be easy to clean and sanitize the rooms.
Earlier this week we finished the other rooms and have moved all the stainless steel shelving, tables, sinks, counters, grinder, packer and bandsaw into the initial cutting room. It looks fantastic.
I have some electrical wiring to do, a little bit of plumbing hook up, some miscellaneous small items and then we'll be ready to do a powered up test of the facility. The wet run. Very exciting!
---
In the afternoon Will, Ben and I finished drilling the 100 holes out in the field for the foundation of the upcoming large farrowing greenhouse, put gravel in the bottoms of the holes and inserted the cedar posts. We have 17 more posts for the end walls and ridge pole supports and then the auger is done for the year. Tomorrow and Tuesday's project.
Outdoors: 51°F/38°F Partially Sunny
Tiny Cottage: 64°F/59°F
Daily Spark: Farmers wear layers. (Picture of farmer with a chicken on each shoulder.)