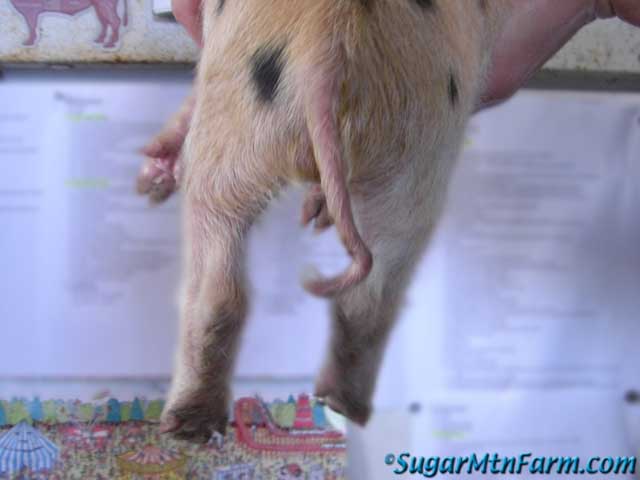 Crook Tailed Piglet
How a tail curls is partially under the control of an animal but can also be genetic. This piglet has a crook tail. When I first saw this a couple of years ago I thought the piglet in question had gotten stepped on. That was not the case.
Over the years I've seen some piglets born with this oddity. After tracking the lineages I've concluded this is a recessive trait that came in on some pigs we acquired several years ago. It was really happenstance that they came to us but some of the gilts had 16 teats, a useful trait so I kept the best as breeding as stock to merge in with our genetics. I'm always looking for more
tits on a boar
. Our boar Tamboar in the south is up to 18 teats and he throws gorgeous 18 teated daughters – another recessive but desirable trait.
The cause of this sort of crooking at the tip of the tail is that some of the ligaments are short on one side of the tail causing the tail to turn in that direction even when relaxed as in the picture of this piglet above. Sometimes the crook is so sharp it makes a tight hairpin turn, other times it's a more genetle turn like the one shown here.
This crook tail is not a big deal – it's a very minor trait – but when I am selecting breeders I select away from it so eventually I'll cull this recessive trait out of our stock. It takes longer to cull out recessive traits than dominant genes because they're harder to see and can be carried without being expressed.
Genetics and breeding is fun. Sex and math!
Outdoors: 31°F/18°F Sunny
Tiny Cottage: 63°F/58°F Fire
Daily Spark: Have you heard about the path of sad princesses? It's called the Trail of Tiaras.