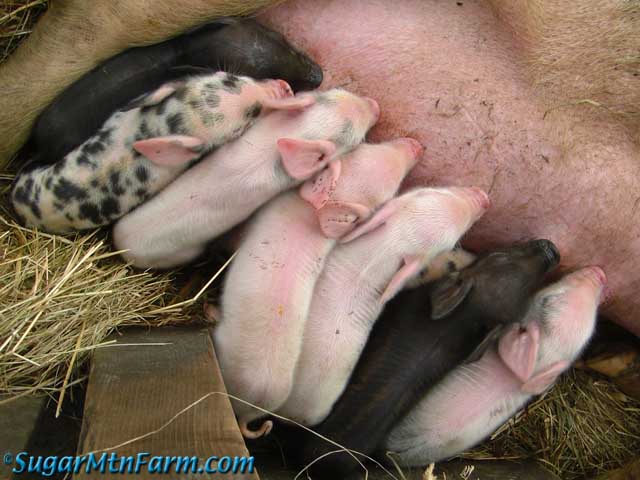 Eight New Piglets
When we were sorting pigs the other day for market I saw this sow who was quite close. We cut her out from the north herd and moved her to the south sorting corral with hay. She just had her piglets – her first litter, and has done quite nicely.
She's trying to get a spot in the sow herd. Had been planning to cull her because she has a shorter tail, a recessive gene I'm working on removing from our herds. It's a minor trait but I select against it if given the choice between two other equally good sows. Recessive traits are harder to remove from the gene pool than the dominant traits because you can't always see that they are being carried.
But as I said, it's a minor trait so if she does a really good job in all other ways she might get that slot in the sow herds.
She is a white sow, but the colors of her offspring tell me a lot about her color genetics. She's carrying recessive color genes which combined with Spitz's to produce these colors.
Genetics are fun.
Breeding is fun.
Outdoors: 40°F/24°F Sunny
Tiny Cottage: 63°F/58°F
Daily Spark: Breed is like religion: never diss another man's choice of pig, wife, truck or dog.