Master Butcher Coleman Ward
In preparation for opening our own
butcher shop
our elder son Will and I spent 18 months apprenticing with master butcher Cole Ward of Vermont to learn the art, craft and science behind traditional meat cutting. Cole does workshops throughout New England and he is available to come to your farm or home to help with the butchering of pigs, sheep, goats and cattle.
To set a date for your own personal meat cutting workshop contact Cole at:
(860) 372-0681
ColeTheButcher@yahoo.com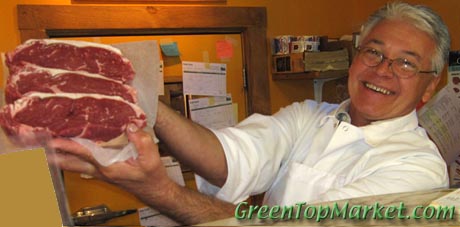 Meat the Master
Cole is a master of his craft, an excellent teacher and full of wonderful stories. Working with him has been one of the high points of our journey to having our own USDA/State inspected butcher shop here on our farm.
Even if you're too far away from him you can still learn from his over 40 years in the trade by getting his DVD series about butchering and his book that gives a deep peek behind the counter of butcher shops from the past decades of experience.
DVD Videos: The Gourmet Butcher's DVD Video Series
The book includes a CD-ROM with hundreds of additional photos from cutting meat – this is completely separate from the DVD video series.
Outdoors: 54°F/44°F Mostly Sunny
Tiny Cottage: 63°F/59°F
Daily Spark: The cure for veganism is bacon.