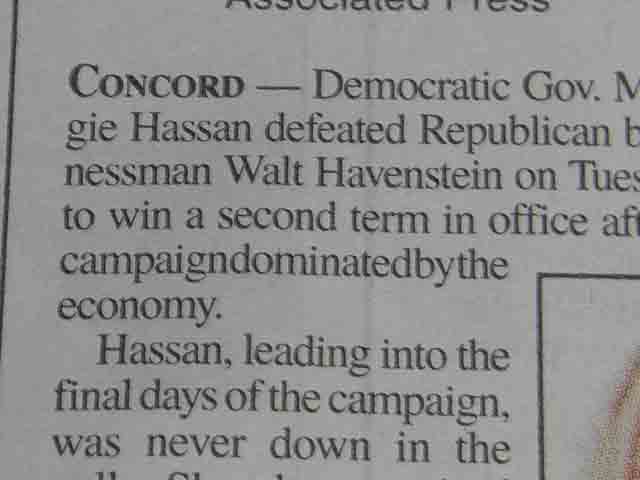 All the News that Print to Fit – No Space Left Unsquashed
Gotta love the local newspaper. Besides getting thinner they also seem to have gotten rid of all their proofreaders and replaced their typesetters with software that removes spaces until the letters finally fit onto the column width – damn the spaces.
What's worst about this is they created an orphan in the next line at the end of the paragraph which is a typographic no-no. Had they left the spaces in they could have avoided the orphan. I see this happening a lot recently in this local paper in addition to a great many typos, spelling mistakes, grammatical errors and even typos in headlines, above the fold on the front page no less. Please, someone proofread! Apparently the budget cuts have reached deeply into the editorial staff.
On that topic, if you ever see mistakes on my web pages, feel free to email me as I appreciate edits. One of the wonderful things about publishing on the web is we can fix the typos. I published books and a paper magazine for 15 years and I'll willing admit a few typos got through, although fortunately never in the headlines. I really like being able to edit now that I publish electronically.
Outdoors: 59°F/40°F Partially Sunny
Tiny Cottage: 63°F/59°F
Daily Spark: Pigs are just flying (off the shelves of the freezer). 'Tis the season for suckling pig roasts.