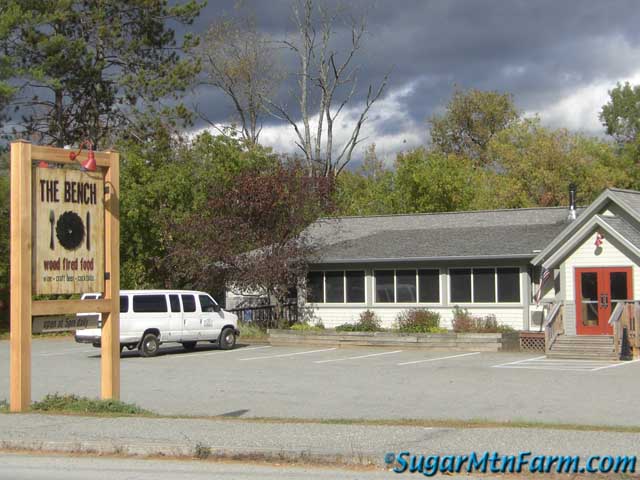 Harriet Delivering to The Bench Restaurant in Stowe, Vermont
For years we've delivered to Reservoir Restaurant in Waterbury, Vermont. The owners have opened a new restaurant called The Bench in Stowe, Vermont. We are delivering a lot of our ground pastured pork and fresh bellies.
Wood Oven at The Bench Restaurant
The ground goes into their delicious meat loaf and the fresh belly is for their signature
The Bench
burger. The place looks beautiful inside and they're busy right out of the starting gate with their excellent menu and reputation.
Outdoors: 37°F/32°F Light Snow, Overcast, High Winds
Tiny Cottage: 63°F/57°F
Daily Spark: Real Reason Dark Matter Can't Be Seen: The reason scientist can't find Dark Matter is that they're not looking in the right place. As soon as they look at it then it is not dark matter but normal matter. This is because the Universe is very much like a game simulation in the computer where it only displays what you are looking at, not the things you're not looking at. This selective display saves computational resources allowing a higher, more realistic frame rate. Although the objects aren't displayed they still have to be accounted for in terms of gravitational and other force calculations because they are there. In the real Universe there are many people all looking in many directions, much like a multiuser game, so many more different places are being displayed. Yet, still not all of the Universe has observers at the same time because there just aren't enough people looking or, as the case often is, they're looking at the same think like the Kardashians or a soccer game rather than the dark matter they meant to be looking at. The result is that even with the trillions of trillions of trillions of observers in the Universe not all parts of the Universe are being observed at any given moment. These unobserved portions are simply not displayed. That's where the Dark Matter is. If you look really quickly you might… oops, you looked and it got displayed so now it's no longer Dark Matter… And that is why the scientists can't see Dark Matter.