Hope Costume Make Over
Hope says this is the only time we'll see her in a princess dress…
Steve from Minecraft
As the kids were getting suited up we met Steve from Minecraft. We saw two more Minecraft characters along our journey down Main Street in Barre, Vermont.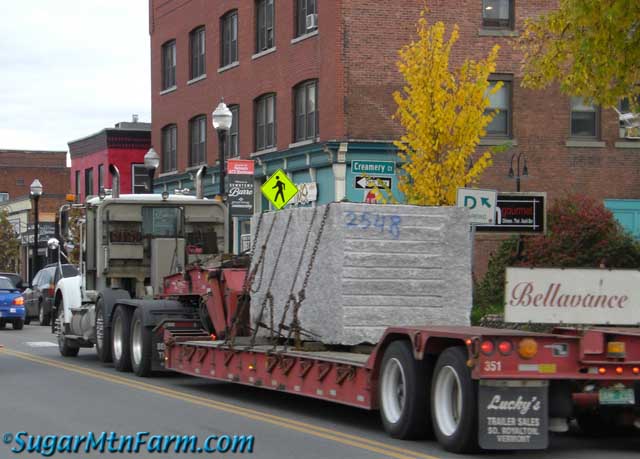 Another Block Head
Since this is Barre, Vermont "Granite Capital of the World" we saw other granite blocks too. I must say but this looks like the most expensive and largest costume. Very convincing.
Will (behind), Ben & Hope in 2014 Halloween Costumes
For Halloween this year Will and Ben were the character Duo, out of their imagination. Hope was a princess cyclops, out of her rather vivid green imagination. To make her huge head light enough for the approximately mile long walk of Scary Barre down the Main Street of Barre, VT and back she created her head from spray foam and then carved it.
Will and Ben Sideways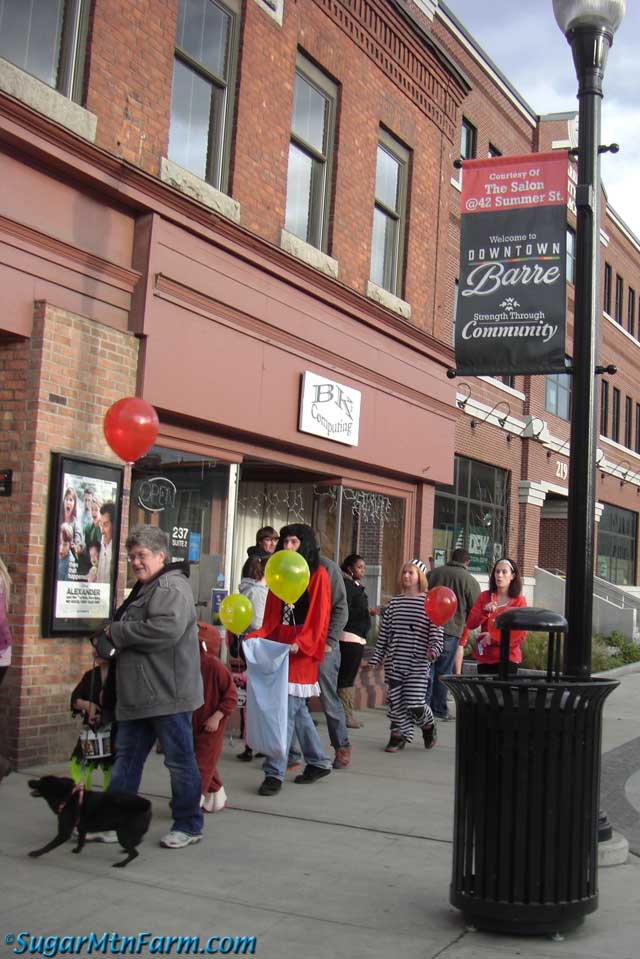 Street Banners of Interest
An interesting little legal wrangle is that the town of Barre has long had these little signs on the street lights. Very common around the world probably. The state of Vermont government decided that only they are allowed to authorize signs, and charge fees for them, so they told Barre to take them down. The mayor of Barre, Lasso Loranzo, a nearly wild western type local said "No." After a bit of back and forth in the newspapers with legal threats the town seems to have won. I think the state backed off realizing they really didn't want a legal fight that they might lose and thus set a precedence. That in and of itself sets a precedence and I've seen more of these going up in other towns. I think the state has lost this battle. Chalk one up for the local bully. While I don't like some things Loranzo's done, in my opinion he did this right. Bravo for local control.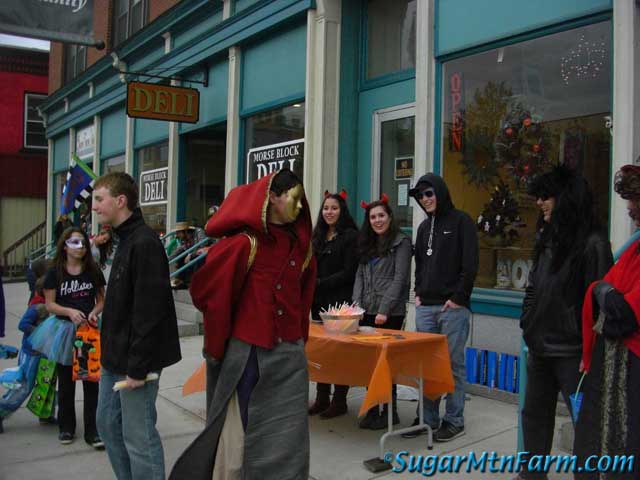 Handing Out Glow Lights
I think the idea here was they were handing out glow lights. Unfortunately the kids didn't seem to know what they were getting and just stuffed them in their candy bags along with the safety pamphlet. For better or worse the glow lights broke in the bags thus lighting up.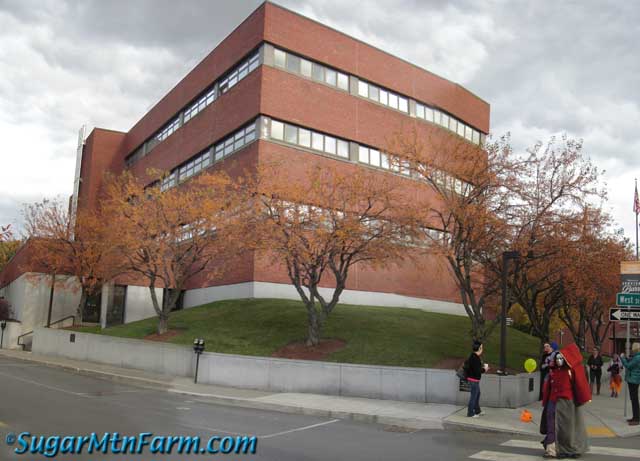 Barre Courthouse
Big Spider, Little Spider in Awe
Barre Opera House
Studio Arts Place
Altrich Public Library
Barre Senior Center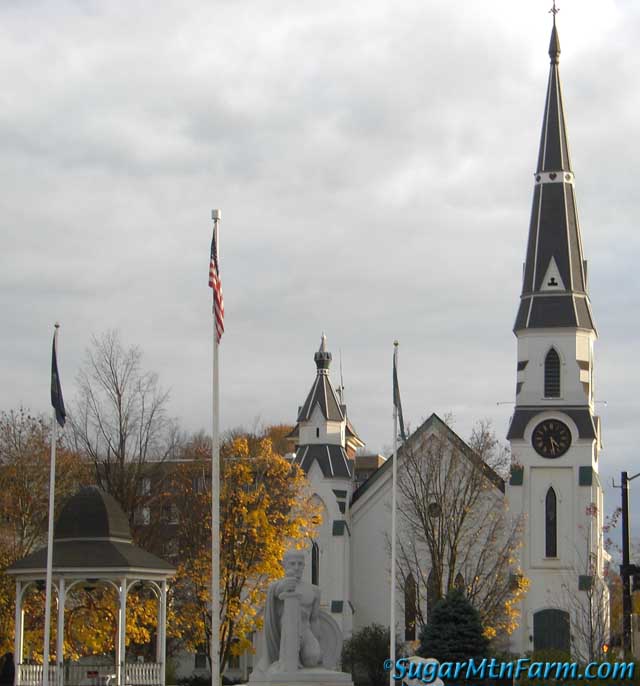 Church at the Green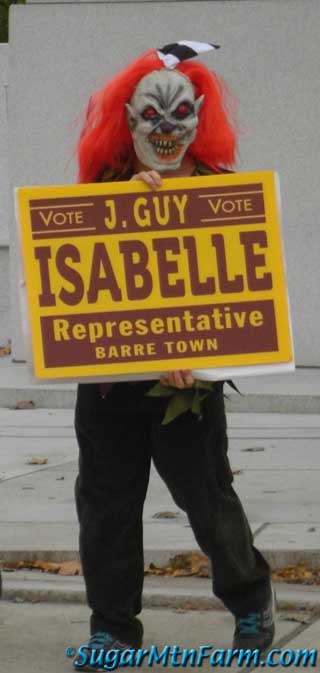 Politician
This was the scariest costume of the year. Scary because of the monster behind the mask? Perhaps an honest politician letting us know what he's really like? Several politicians were out campaigning for the November 4
th
election. It is an interesting juxtaposition of events.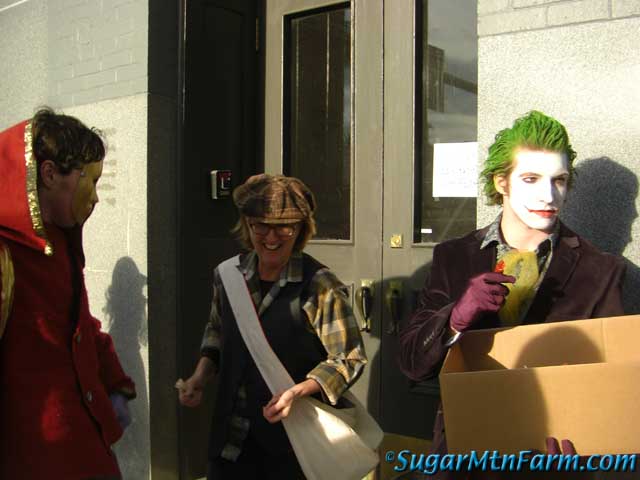 A Very Good Joker
Duo Splits
…and they're gone.
Outdoors: 44°F/34°F Mostly Cloudy
Tiny Cottage: 64°F/59°F
Daily Spark: Apparently there are two people in the Universe who read End User License Agreements and other contracts: the lawyer who wrote them and me.
Also see:
Halloween 2015
Halloween 2014
Halloween 2013
Halloween 2012
Halloween 2011
Halloween 2010
Halloween 2009
Halloween 2008
Halloween 2007
Halloween 2006
Halloween 2005