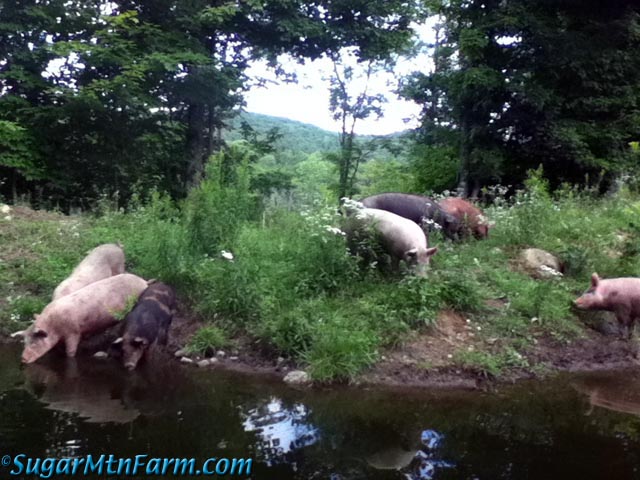 Pigs at the North Field Pig Pond
Pigs love water. On hot summer days they look like hippos swimming in their ponds. We have dug a number of shallow ponds, perhaps 10′ to 20′ wide which catch water. The pigs packed the bottoms with their hard pointy feet, a traditional pond sealing method, so the soil holds the water. I chose spots that I tested to have higher than average clay content so this would work well.
The result is a scattering of small pig ponds around our land, accessible from various pastures. The ducks patrol for mosquitoes, frogs and dragonflies have moved in and we even see wild ducks and blue heron.
These reservoirs store water up for the dry month of August when some of our springs stop flowing. This gives the pigs and other livestock as well as the wildlife a source of water during the hot days of summer.
Outdoors: 55°F/36°F Sunny
Tiny Cottage: 63°F/59°F
Daily Spark: It's hard to hang the headless horesman.